Your engagement and wedding day is an unforgettable moment, a chapter in your love story that deserves to be celebrated. Here at New Pace, we understand the significance of these moments we capture, which is why we offer a range of premium printing options, including regular prints, fine art prints, metal prints, canvases, and albums.
Print Products That We Offer
Through your online gallery, it's easy to access our store where we offer many types of premium print items. Watch the video above to learn how to buy prints from your engagement or wedding gallery!
Regular Prints
Professional photos deserve professional prints. Our top-quality prints are ideal for all your display and gifting needs. With a semi-gloss finish that strikes a perfect balance between glossy and matte, this paper option ensures accurate colors, lifelike skin tones, and sharp details. The texture is more resistant to glare and fingerprints than your typical printed photos from your local drugstore or online retailer.
Fine Art Prints
Crafted on premium fine art photo paper, our Fine Art prints will elevate your photographs into the true works of art they represent. These items are perfect for hanging on the wall of your home or gifting to your loved ones.
Metal Prints
Our Metal prints offer a modern and striking way to display your favorite photographs. These prints are created by infusing inks directly into a specially coated metal surface, resulting in vivid and durable images.
Canvases
Canvas prints offer a classic and elegant presentation of your most cherished moments, with the texture and depth of canvas lending an artistic quality to your photographs. The canvas material adds a soft, warm feel, and we offer various sizes and framing options make it easy to find the perfect fit for your decor.
Albums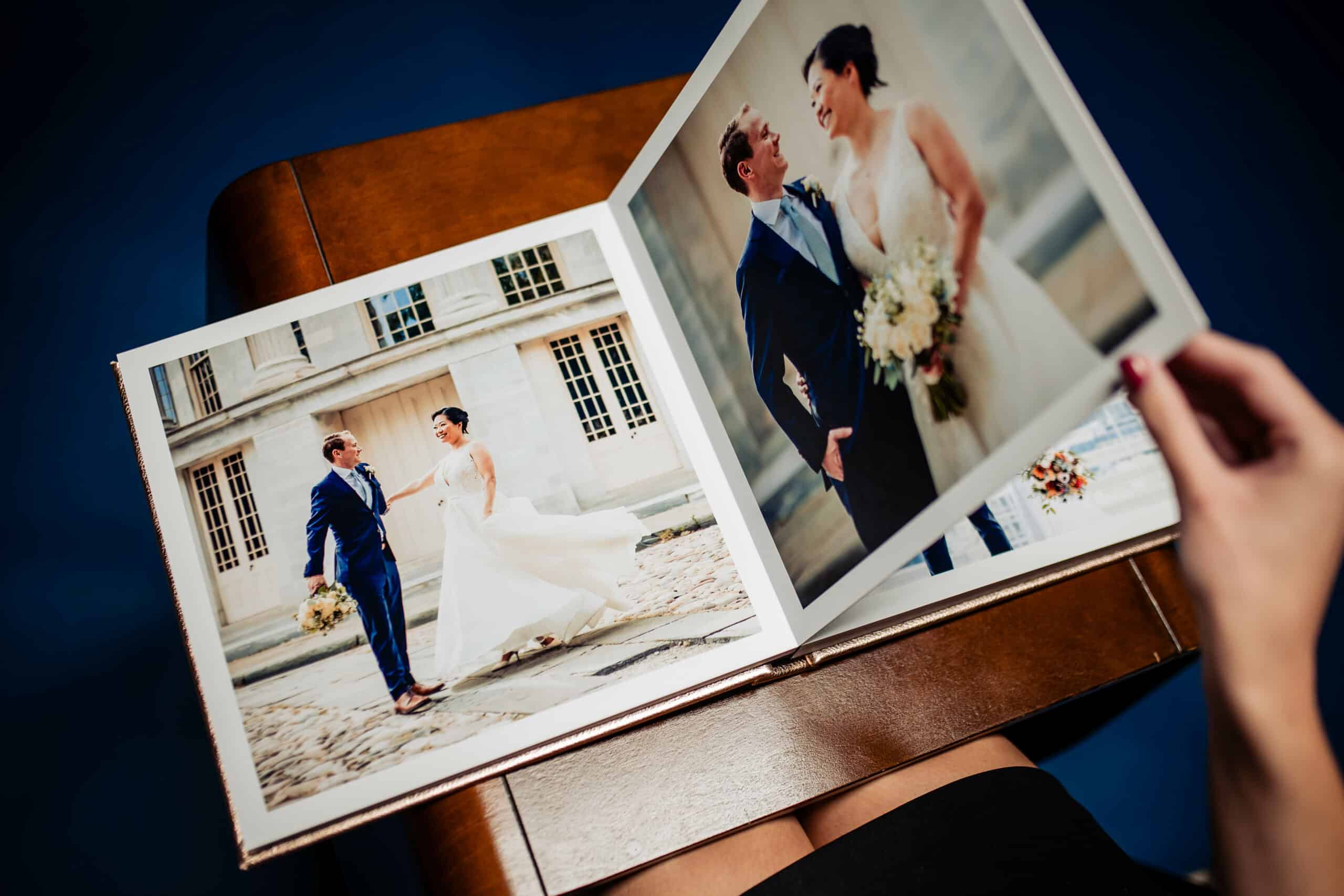 Our stress-free design service gives you the perfect wedding album that reflects your unique style and personality. Our album designer will work with you to create a unique album featuring all of your precious moments from your special day. She will assist in choosing the right colors, layouts, fonts, and cover designs – so all you need to worry about is how happy you'll be when it arrives!
Even if you do not have an album added to your package, you can add it on as an item at any time. Even years after your wedding day, you can create your own custom album with us.
5 Reasons Why You Should Print Your Wedding or Engagement Photos
In our blog, we'll explore five reasons why you should choose to print photos from your wedding and engagement. Not only will purchasing them with us through your gallery will give you better quality prints, it's also more convenient than printing them on your own through a third-party service!
1. They're Tangible
There's something so special about holding a printed photograph in your hands, especially in this modern age where everything is digital. Your engagement and wedding photos can bring back emotions, memories, and love that deserves to be tangible, something you can physically touch and feel. When you hold that photograph in your hand, you can run your fingers over it, see the details up close, and be instantly transported back to that special day. It's an experience that digital files simply can't replicate.
2. They Can Be Passed Down From Generation to Generation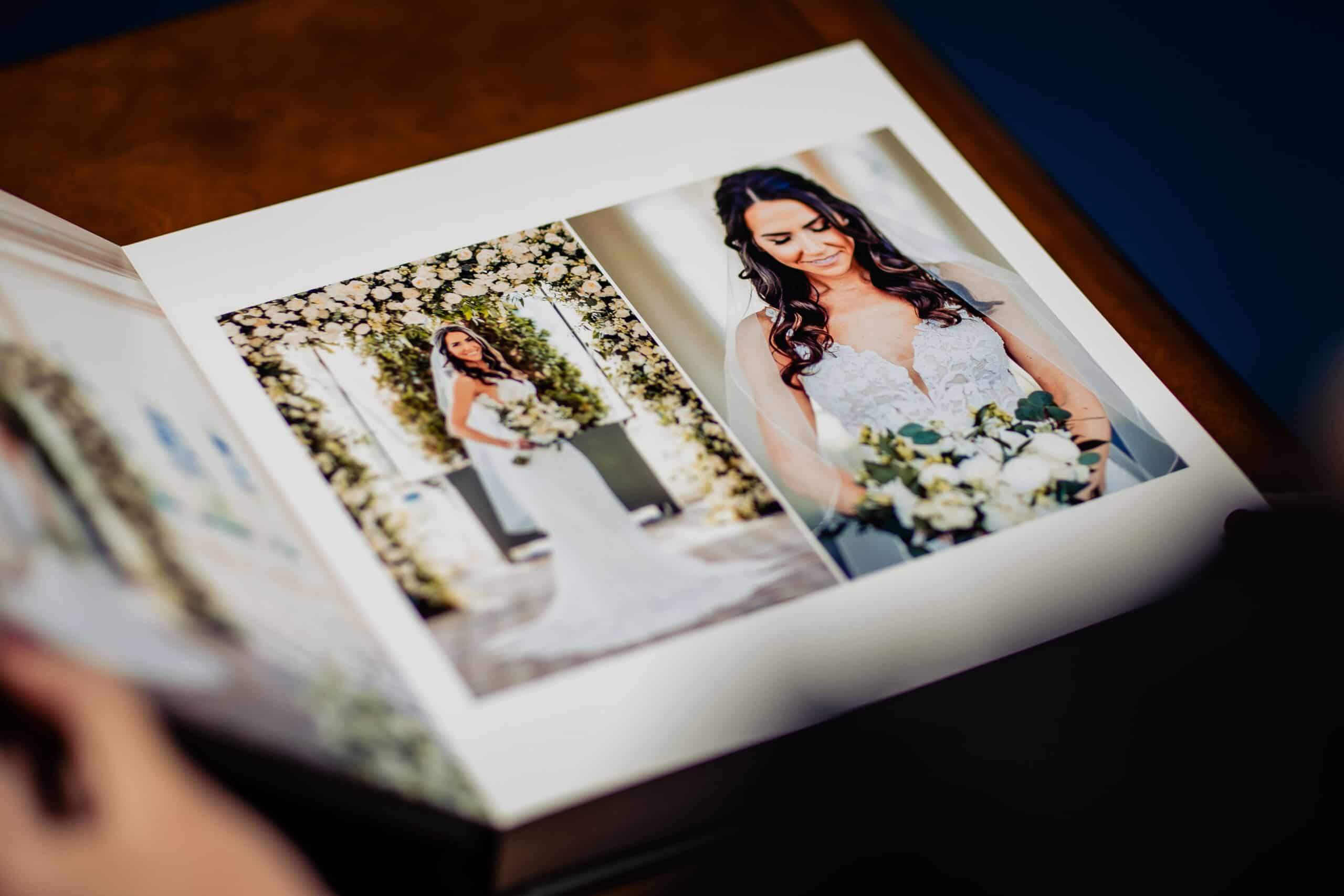 Printed photos have the ability to become cherished heirlooms that are passed down from one generation to the next. Imagine your children and grandchildren flipping through an elegant album filled with the beautiful memories of your wedding or engagement. These photos not only tell your love story but also become a part of your family's legacy, creating a connection to your past for those who come after you.
3. You Can Relive Your Wedding Day
Most people don't realize how quickly their wedding day will go by. That's why it's important to document the day with beautiful wedding photos and videos, so you can relive the day once it's over.
Printed photos are a great way to revisit that magical day, not just today or tomorrow, but for years to come. When you flip through an album or gaze upon a framed print, you're instantly transported back to those emotional vows, your fun reception, and the heartfelt moments between you and your partner that defined your special day. As time passes, these photos become even more precious, capturing not just the events but the emotions and connections that made your day uniquely yours.
4. There Are No Technical Issues
In today's digital age, we rely on screens and devices for so much of our lives, from smartphones to laptops. While this technology is convenient, it also carries the risk of data loss, file corruption, or becoming outdated. Printed photos, on the other hand, are immune to changing technology. You won't need to worry about compatibility, data backups, or the potential for lost files. These physical prints can be cherished without the fear of them disappearing due to a hard drive failure or an outdated file format. They are tangible, reliable, and timeless.
5. They Make a Great Gift
When the holiday season arrives, what better gift to give your loved ones than the precious memories of your wedding day or engagement session captured in print? Printed wedding and engagement photos are a heartfelt and thoughtful present, with lots of sentimental value. Gifting your beautiful images to family and close friends is a way to share the joy and love of those cherished moments.
Whether it's a framed portrait, a stunning canvas, or a carefully curated album, it's the perfect gift to give to those who helped make your wedding dreams a reality!
Take Advantage of Our Black Friday Sale
Sale starts November 13th and ends on December 1, so mark your calendar and don't miss out on this incredible opportunity to own beautiful, hand-crafted photo products at an unbeatable price.
Stay tuned for more updates about our Black Friday holiday promo!