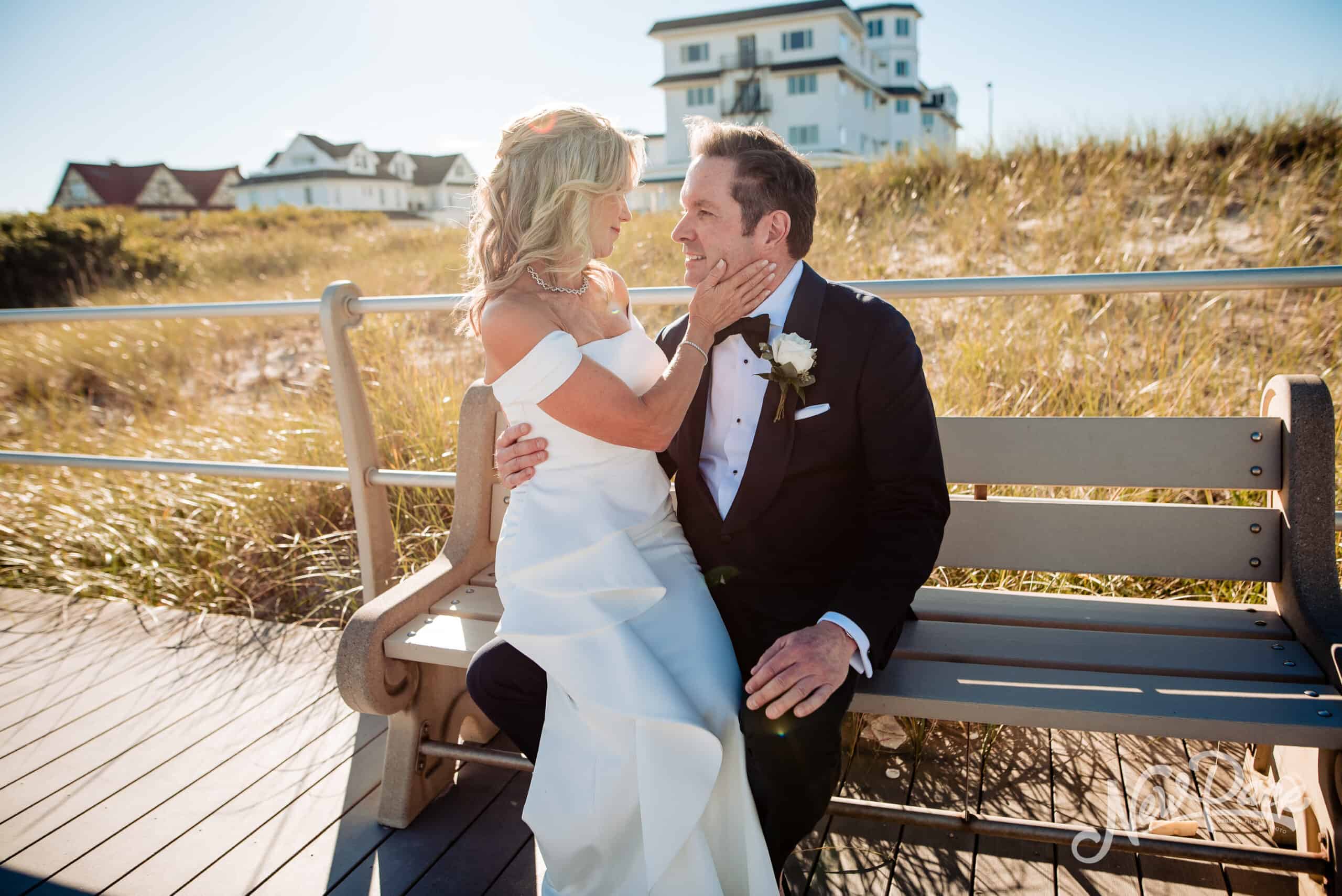 Whether you're local to the area or you're planning a destination wedding, there are plenty of gorgeous coastal venues in Southern New Jersey to celebrate your special day. South Jersey offers breathtaking natural beauty all year round, with an abundance of venue options – from quaint, intimate ceremonies to grand and festive celebrations.
At New Pace Wedding Films and Photo, we've captured many gorgeous weddings at venues in South Jersey. In our 15 years of experience, we've had the pleasure to work at some of the very best wedding venues in South Jersey. Here are some of our favorites:
Best Outdoor Wedding Venues in South Jersey
The Reeds at Shelter Haven
Centrally located in Stone Harbor, New Jersey, the Reeds at Shelter Haven pays homage to the original Shelter Haven Hotel which played a great role in the tourism boom in the area at the beginning of the 20th century. Previously a site of high-class yachting parties, it is now one of the most popular wedding venues on the Jersey Coast.
For an intimate seaside feel, the sundeck boasts impressive water views for a stunning backdrop to exchange vows. Guests can then move to the covered veranda to mingle, sip cocktails, and enjoy hors d'oeuvres before the reception or relax in the adjacent outdoor lounge.
The Sweet Grass Ballroom is ideal for larger parties, with a guest capacity of 220. The spacious, open-air design provides plenty of room for dancing the night away and showcases wall-to-wall sliding glass with a full view of the harbor. To add romance and warmth to the atmosphere, there is a fireplace with access to both the indoor and outdoor areas.
Yacht Club of Stone Harbor
Built in 1911, the Yacht Club of Stone Harbor is a sophisticated and stylish establishment that accommodates up to 250 guests. With in-house catering that includes stunning wedding cakes, and professional staff to handle the event, you'll be able to relax and enjoy your wedding day without a single worry.
If you're looking for a nautical, relaxed vibe, look no further. Here, you can say "I do" right on the dock with picturesque coastal views. Afterward, you can take the party indoors for a first-class meal. Couples rave about the attentive staff who make the event a memorable one.
Yacht Club of Sea Isle City
Poised on the bay next to the Intracoastal waterway, The Yacht Club of Sea Isle City was originally built in 1941 but now has a newly constructed building with breathtaking panoramas of the island. The simple, modern elegance of this yacht club is immediately felt upon entering the ballroom which can accommodate up to 230 guests. Its high ceilings and large windows open up to the gorgeous backdrop of the shimmering coastal water. It's the perfect place to make your grand entrance as a newlywed couple after exchanging vows outside on the dock.
A dedicated event team and on-site catering will ensure your special day goes off without a hitch and will work with you every step of your wedding journey to make sure it's as magical as you've always dreamed.
Most Unique Wedding Venues in South Jersey
Congress Hall of Cape May
Congress Hall is a two-centuries-old iconic gem at the southern point of Cape May, right in the heart of the Cape's Historic District. Celebrated as America's First Seaside Resort, its unique ambiance perfectly combines the coastal feel with historic Victorian charm. It's no wonder that it was once known as "The Summer White House," with famous guests including Presidents Ulysses S. Grant, Franklin Pierce, and James Buchanan.
As a host to the most luxurious weddings, this venue rightly deserves The Knot's 'Best of Weddings Award.' You'll fall in love with all of the opulent appeal and photo and video opportunities around the property. You can select to hold an oceanfront wedding with waves dramatically crashing behind you, or opt for a ceremony on the Grand Lawn with an expansive vista of the Atlantic Ocean as the backdrop. When it's time for dining and dancing, all of your family and friends will head to the elegant ballroom (with a capacity of up to 225) which features a classic look with black and white checkered tiles.
One of the best features of Congress Hall weddings is that your guests will have plenty to do in and around the property, which is conveniently located next to Washington Street Mall, which is a picturesque, pedestrian area with boutique shops and fine dining. Guests can also enjoy the high-end amenities of the pool, day spa, restaurant, lounge, and nightclub. They can also enjoy the natural beauty of the coast by taking a stroll on rented bikes or relaxing on the beach.
Avalon Yacht Club
Situated on the Intracoastal bay front, Avalon Yacht Club is a highly sought-after venue in the Garden State. Unobstructed panoramic views of the bay make for a breathtaking sunset backdrop for exchanging vows.
Avalon can host a variety of wedding sizes, from intimate ceremonies to large, extravagant affairs. Both the North Deck and the second-floor Club Room with a private balcony provide stunning coastal views.
To ensure the wedding experience of your dreams, an on-site event manager will oversee every little detail. It's the perfect place to host your wedding!
The Grand Hotel of Cape May
Only a few steps away from the beach, walkable to shops and restaurants, The Grand Hotel is set right in the middle of historic Victorian Cape May, New Jersey. Featuring beautiful views, inside and out, this venue can accommodate 350 guests with a variety of spaces for any size. Have your wedding ceremony on the pristine beach directly in front of the hotel, the Penthouse Ballroom on the fifth floor with panoramic views of the ocean, or the second-floor sundeck for an elevated vista.
On the inside, which is perfect for large, fun celebrations, is the palatial Grand Ballroom on the first floor. This room showcases grand crystal chandeliers for an elegant ambiance, and an enclosed porch filled with natural light. For more intimate affairs, there are two other banquet rooms, The Wicker and Crystal Room, which both have modern coastal-inspired decor.
After enjoying all of the special moments of your wedding day, guests can retire in the well-appointed rooms of the hotel and wake up to stunning views as the sun rises over the horizon.
The Grand Hotel provides fully coordinated service, plus rental items such as tents making for simple, stress-free planning.
Visit website
Abbie Holmes Estate
The Abbie Holmes Estate is a romantic and historic setting in Cape May Courthouse, New Jersey. There are several venue options to choose from here. The Springhouse Chapel is a popular spot with its open-air natural-wood shelter, and the Conservatory is a great spot for larger ceremonies with a spacious dance floor and all-white aesthetic. Both spaces are beautiful in their simplicity and can be perfectly customized to suit your taste and wedding vision.
For smaller ceremonies or a luxe cocktail hour (up to 40 guests), the sunroom makes for an ideal spot. This room is completely adorned with windows, giving it an airy feel and providing beautiful natural light, perfect for photos and videos.
The Farmhouse and porch offer a unique and rustic feel. The farmhouse features a well-appointed room that allows 100 of your guests to feel right at home. For a welcoming environment surrounded by beautifully maintained grounds, The Porch is a great location for smaller ceremonies of up to 60 family members and friends.
Along with the superb on-site dining experience from Xenia catering, couples praise the accommodating staff, unique decor, and gorgeous outdoor grounds.
Best Beach Wedding Venues in South Jersey
ICONA Diamond Beach
ICONA Diamond Beach is a premier oceanfront resort in Wildwood Crest, located on one of New Jersey's only private beaches. This exclusive beachfront property on the Atlantic Ocean allows couples to host their nuptials on a white sandy beach with the sound of rolling waves in the background. For those who prefer a more formal setting, the hotel has a 3,000-square-foot pavilion with wood flooring, ideal for a dance floor. The Bespoke Tent offers an even larger area (4,000 SF) that can be decorated just as you wish to align with the wedding you've always imagined.
As an alternate ceremony or reception spot, The Lanai Rooftop Tent offers a unique elevated, sweeping view of the ocean.
This all-inclusive retreat is well-known for delicious food and luxe suites to get ready for your big day. Your guests will also love the large suites and well-appointed rooms–great for relaxing after a fun-filled wedding celebration.
ICONA Avalon
ICONA Avalon is another top-tier hotel on Seven-Mile Island with scenic, grassy dunes surrounding it. Here, you'll find classy, modern beach resort–style decor, natural light, and a coastal chic vibe.
From barefoot on the beach to a complete extravaganza, you can choose how formal you envision your wedding at ICONA Avalon. Of course, the gorgeous oceanfront is the most popular spot for ceremonies of all sizes, but afterward, your wedding guests can make their way into several of the upscale locations for the cocktail hour and reception. There's the veranda, which is an exquisite hybrid indoor/outdoor space. There's also the Ohana Room, and the Seaglass Ballroom with white coffered ceilings and walls that give couples a blank canvas for any style decor.
A special feature of ICONA Avalon is the Spa Room where wedding parties can feel glamorous getting ready in salon chairs.
Windrift Hotel
The Windrift Hotel in Avalon, NJ was a family-owned business since 1967 but recently joined the ICONA brand of Jersey Shore resorts and restaurants. It's one of only two hotels located right on the beach on Seven-Mile Island.
At Windrift, you can host 250 guests on the beachfront and then dance and dine in the main ballroom which features unique decor. High hardwood ceilings and hanging white paper lanterns that add modern visual interest to this space. The navy, blue, and white colors give this room a nautical allure and the retractable glass walls allow the sea breeze to drift indoors.
Planning your wedding day is simple with all-inclusive packages, attentive event planning, in-house catering, and accommodations for guests that include suites and 3-bedroom condominiums which are perfect for families.
Combine the Best Wedding Venues in South Jersey with the Region's Best Photo and Video Team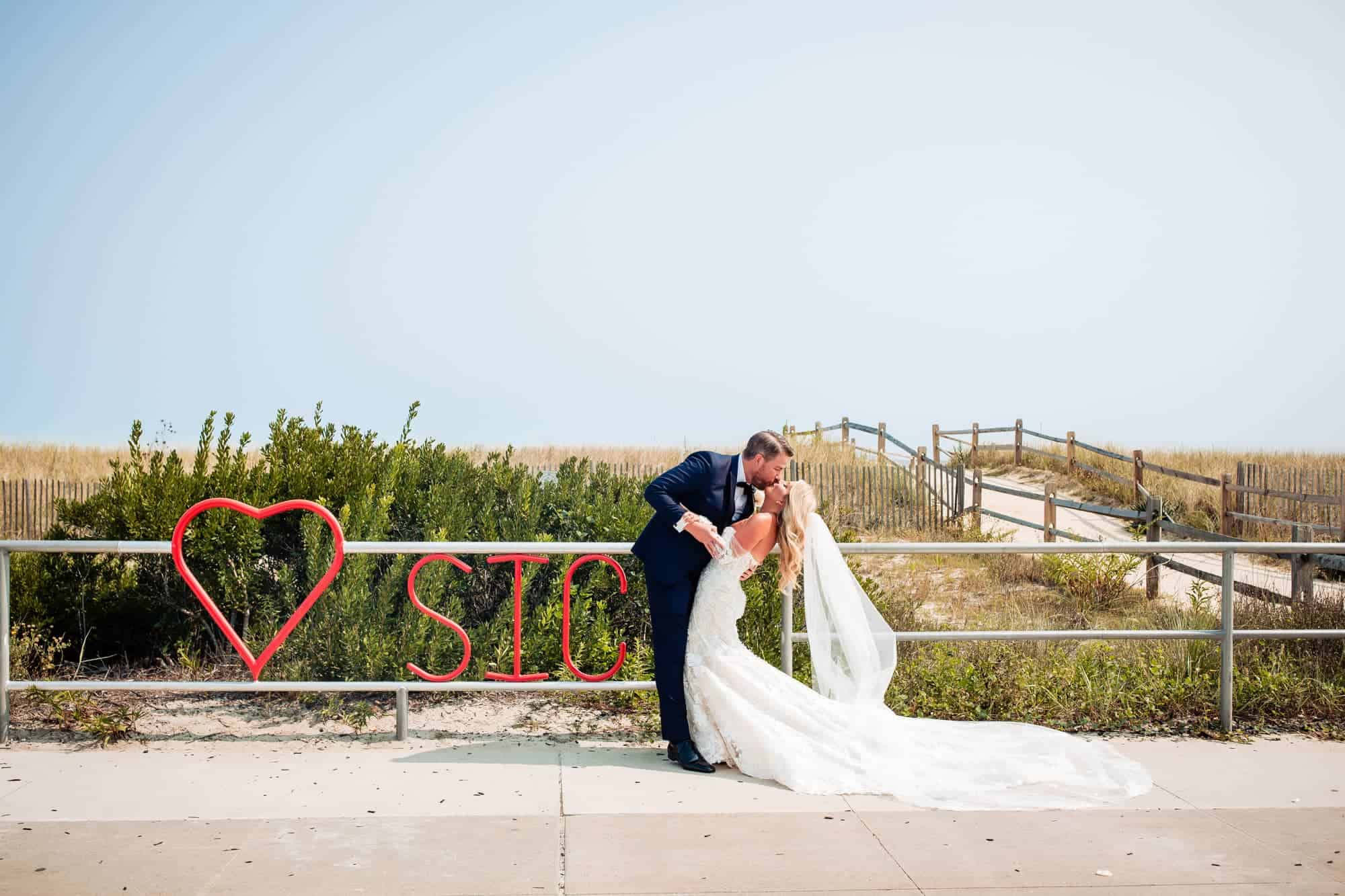 Whichever Southern New Jersey wedding venue you choose, New Pace Wedding Films & Photo is ready to capture every moment of joy on your wedding day so you can relive every special highlight. Get in touch with us today!