If you're looking for a stunning wedding venue in the Philadelphia area that has the elegance of a downtown venue, but all the benefits of being located in the suburbs— look no further than the Ballroom at Ellis Preserve. Located in the charming western suburb of Philadelphia in Newtown Square, you'll fall in love with all the beauty this venue has to offer. The striking outdoor appearance offers quite a sense of grandeur.
WHERE IS THE BALLROOM AT ELLIS PRESERVE?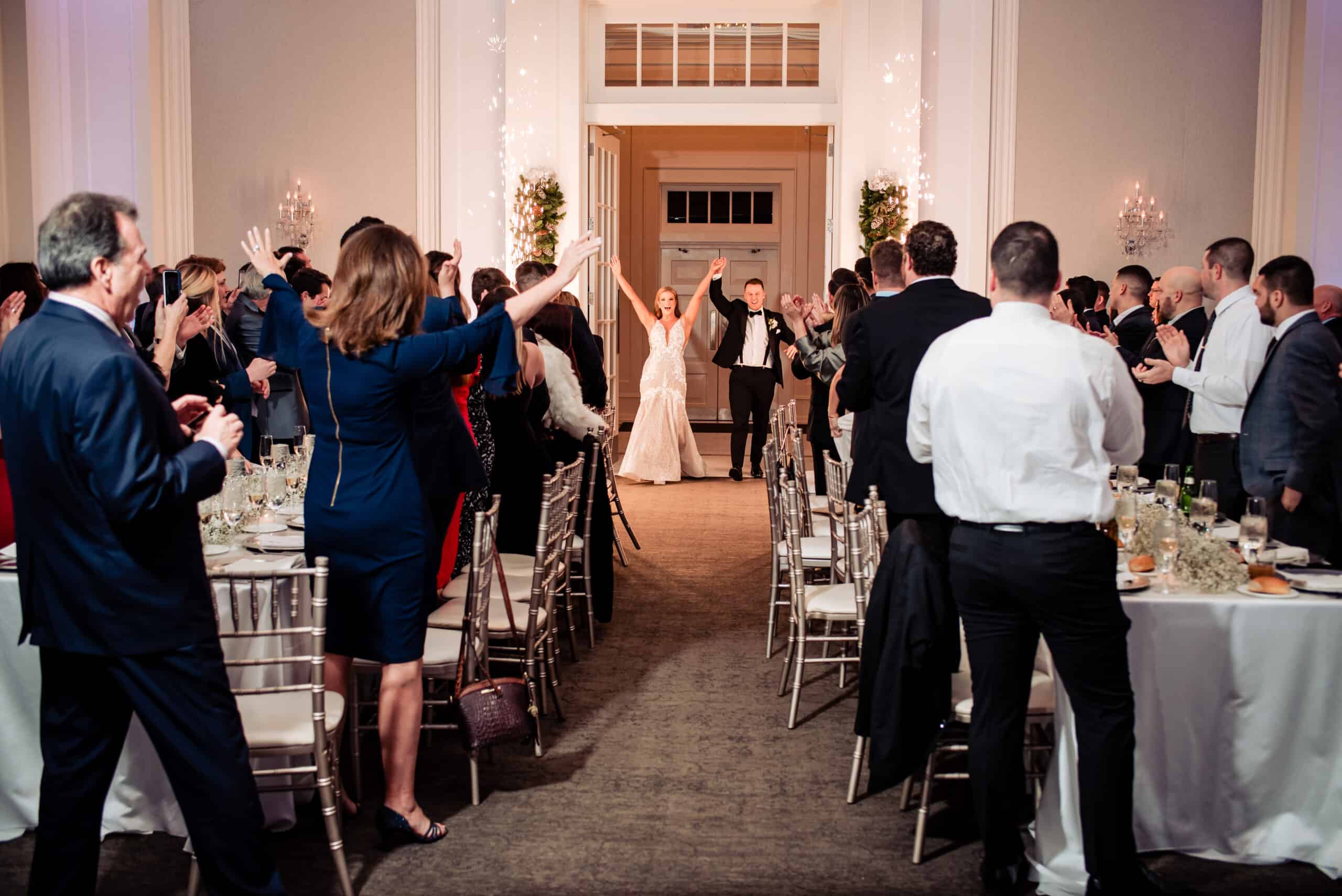 Ellis Preserve is located in the suburb of Newtown Square, which is an approximately 30-minute drive west of the city center of Philadelphia. Located near the gorgeous Pennsylvania countryside, it's a small, quaint town, with lots of cute shops and restaurants.
The Ballroom at Ellis Preserve is located on an enormous estate, spanning over 200 acres–plenty of space to celebrate your big day!
FALL IN LOVE WITH ELLIS PRESERVE'S ARCHITECTURE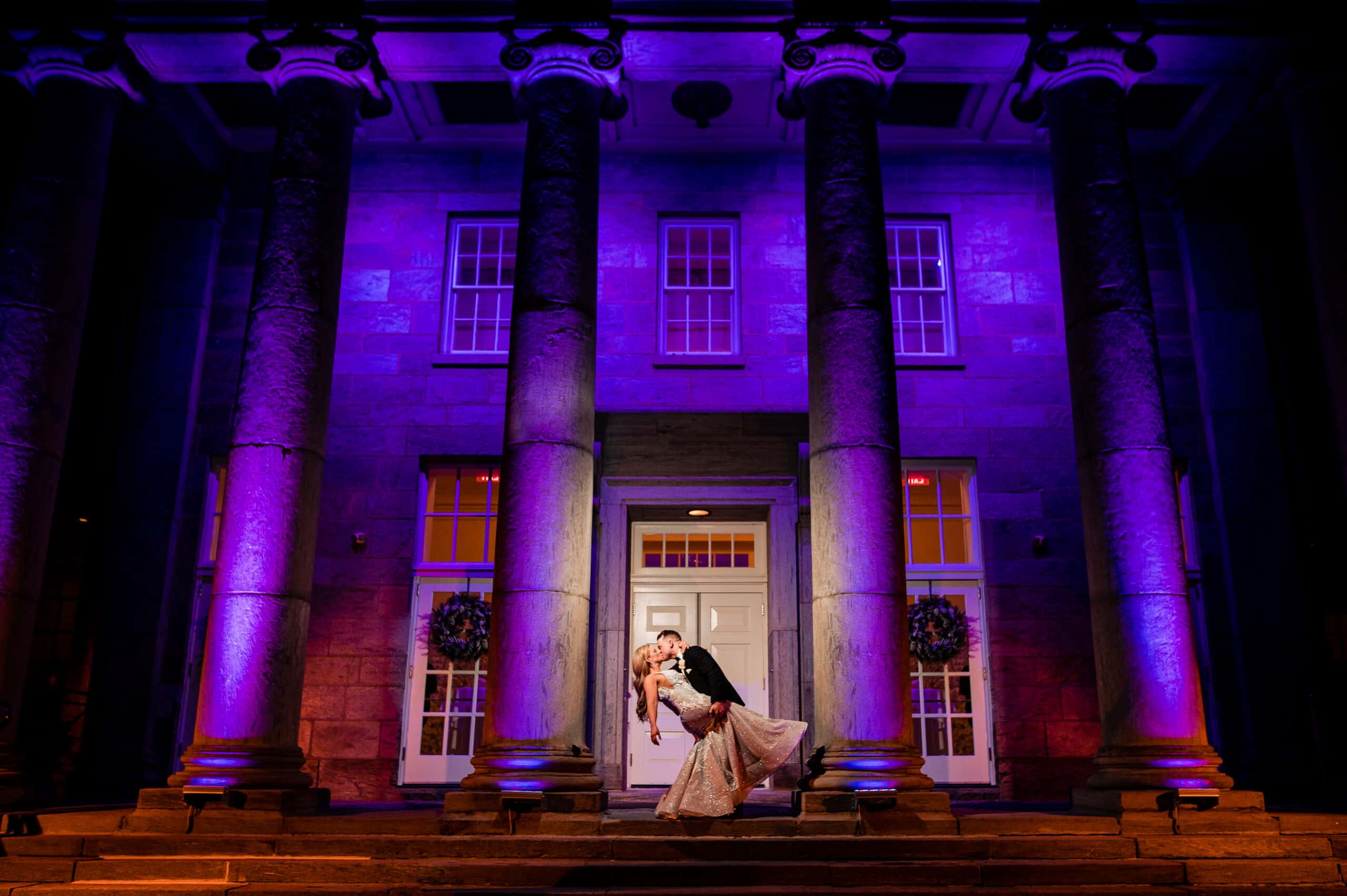 Built in 1932, and opened as a wedding venue in 2016, the building boasts its impressive Greek revival architecture. It has six large columns, large windows, a stone facade, and acres of beautifully manicured grounds that make for a stunning backdrop to an outdoor wedding ceremony or majestic entrance to the ballroom inside. Either way, it'll make for jaw-dropping wedding photos! There are endless picturesque spots on the grounds. As a bonus, the columns can be lit at night with colored lights of your choice to add an extra dramatic effect.
The extravagance doesn't stop outside. Inside, the ballroom is just as exquisite. The high coffered ceilings, light neutral colors, and well-appointed lighting continue the sense of elegance, offering a large space to entertain all your loved ones for a luxurious reception with up to 250 guests.
Additionally, your wedding party will have plenty of space to get ready. The bridal suite spaces match the sophisticated atmosphere of the rest of the building and grounds.
The Ballroom at Ellis Preserve can accommodate all guests. The entire building is wheelchair accessible. There is plenty of on-site parking, with the option of using the venue's valet service.
THE SERVICE AT THE BALLROOM AT ELLIS PRESERVE IS SECOND TO NONE
The Ballroom at Ellis Preserve is the perfect spot for your wedding if you're dreaming of an extravagant ceremony and reception that's conveniently located near Philadelphia, but feels like it's away from it all. New Pace Weddings Films and Photo can help you capture every moment of your big day at this gorgeous venue. It's one of our favorites! Take a peek below at some of the unforgettable moments of Ellis weddings we've filmed. Get inspired and get your tissues ready!
THE BALLROOM AT ELLIS PRESERVE WEDDING PHOTOGRAPHY AND VIDEOGRAPHY
New Pace Wedding Films and Photo is ready to work with you and capture every special detail of your wedding day—whether you choose the Ballroom at Ellis Preserve or another Greater Philadelphia wedding venue. We offer amazing photography, videography, and bundle options for you to choose from. Get in touch with us and we can begin planning!