Philadelphia is a beautiful, diverse area with a historical urban center, but it is also close to the gorgeous Pennsylvania countryside. There are many picture-perfect spots to take breathtaking engagement photos in and around the City of Brotherly Love. So, if you're having a hard time choosing the perfect location to celebrate your love, New Pace Wedding Films & Photo is here to help!
Whether you already have your heart set on a meaningful place–like the spot where you and your fiancé met, or you're simply looking for a romantic setting, we're here to guide you in finding the perfect location to capture your engagement photos. Here are some of our favorite engagement photo locations in Philadelphia:
Boathouse Row, Philadelphia, PA
If you want to capture your love in a peaceful setting, away from the hustle and bustle of the city, Boathouse Row and the surrounding park offer a quaint spot for just that. Within Fairmount Park, fifteen 19th-century boathouses line the tree-filled embankment of the Schuylkill River, providing many picturesque opportunities for engagement photo sessions. You can choose between several romantic backdrops here: the historic row homes, the river in the foreground of the Philly cityscape, or the surrounding trails which offer more natural scenery.
Old City, Philadelphia, PA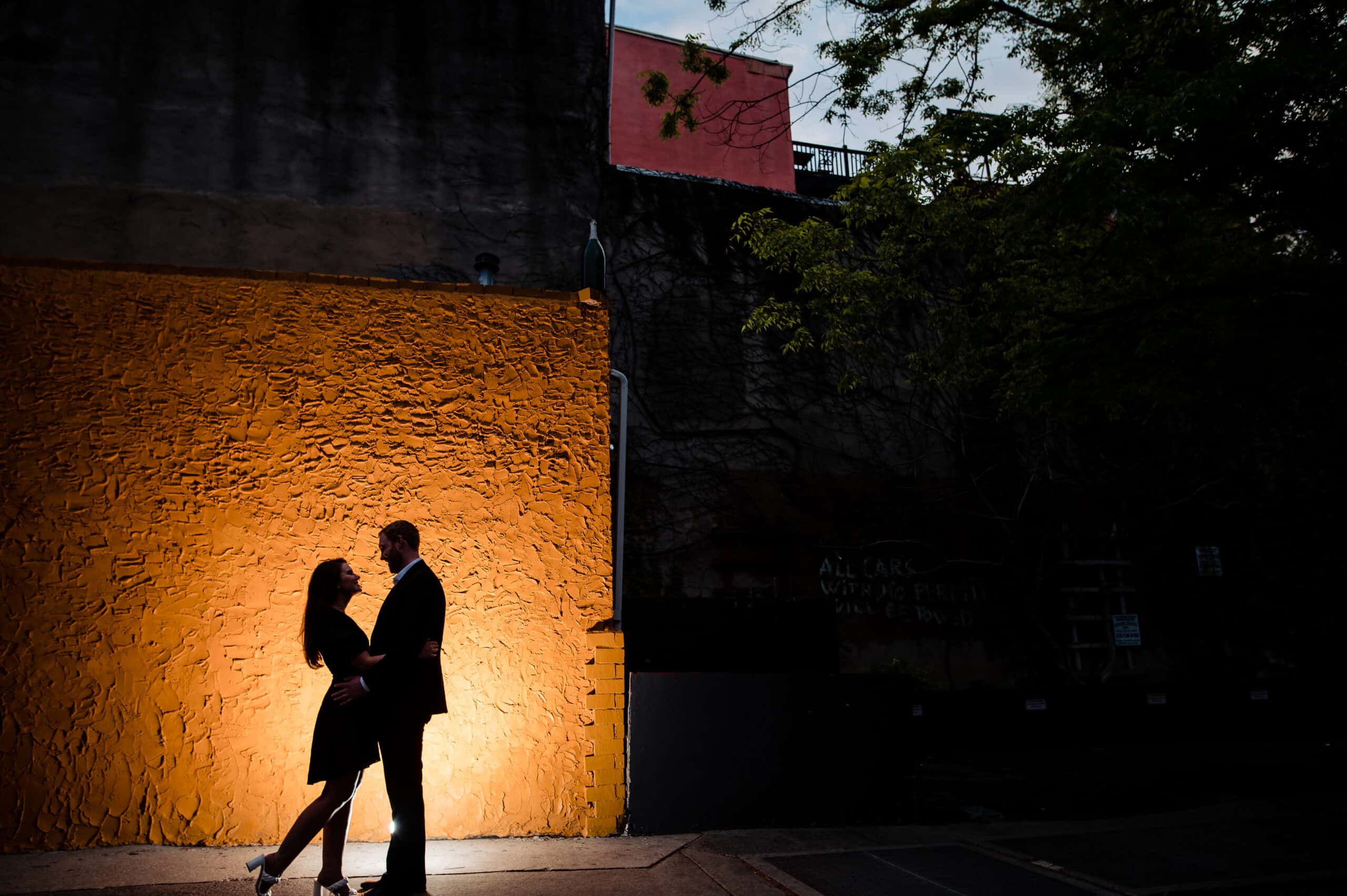 Old City is the heart of Philadelphia and a gorgeous area for engagement photos. In this quintessential historic downtown area– dubbed "where America began," you'll fall in love with the cobblestone streets and all of the red brick buildings that provide a lovely backdrop for soon-to-be newlyweds. Here, you can find Elfreth's Alley, which is America's oldest residential street and gives a charming antique vibe and historical significance to your photos. Another area to check out is Front and Arch Street, where the cherry trees blossom in the Spring with their gorgeous white petals.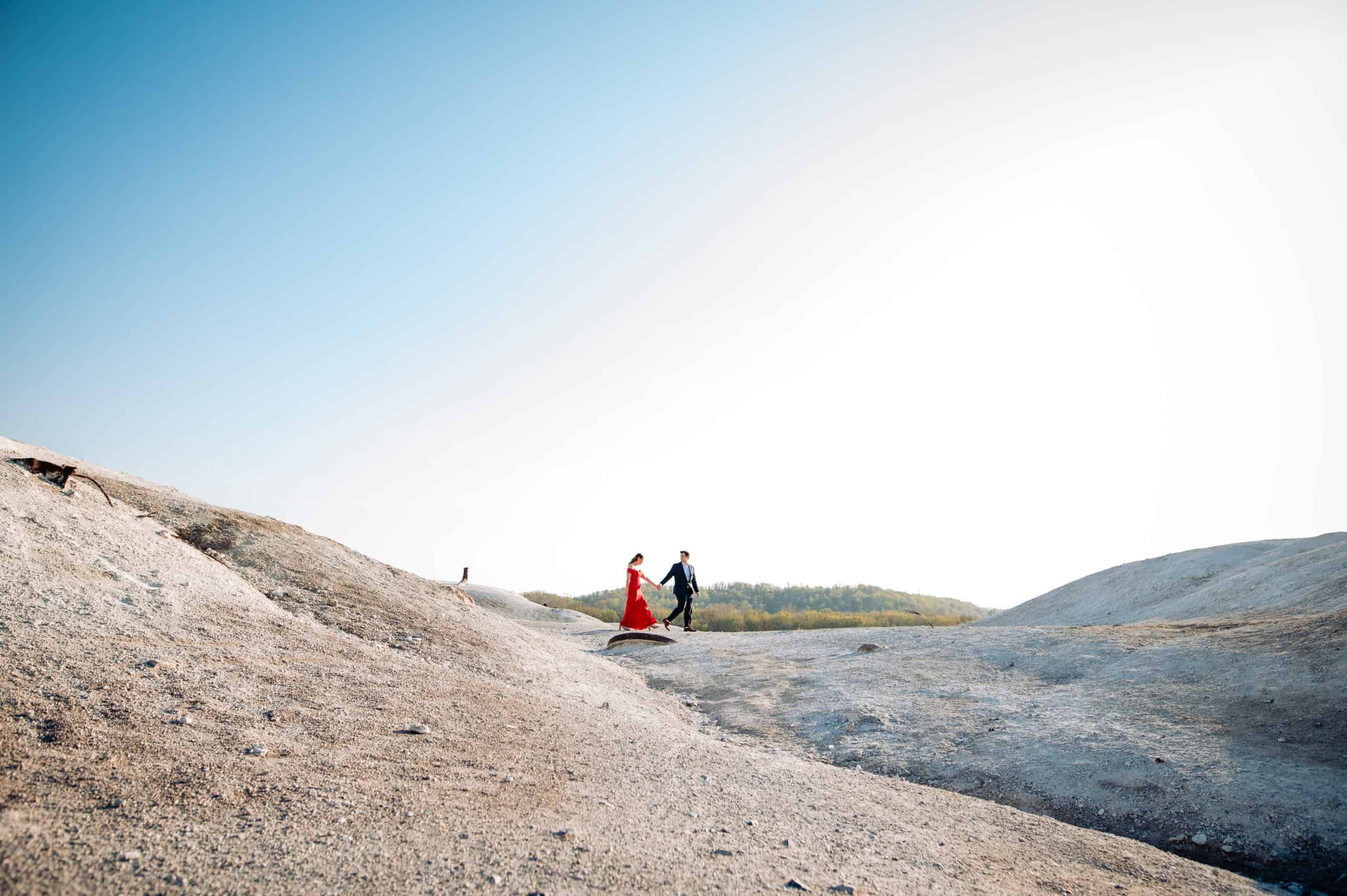 Are you looking for a hidden gem to provide unique engagement photos? Look no further than the White Cliffs of Convoy. About 80 miles west of Philadelphia, in Lancaster County, Pennsylvania, lies a natural attraction that was just opened to the public less than a decade ago, so it's a barely known outdoor space that will make your photos truly special. These manmade "mountains" are the result of excess limestone piled up by the Susquehanna River, and now create an awe-inspiring location for engagement photography.
Mainline and other suburban areas just outside of Philadelphia, PA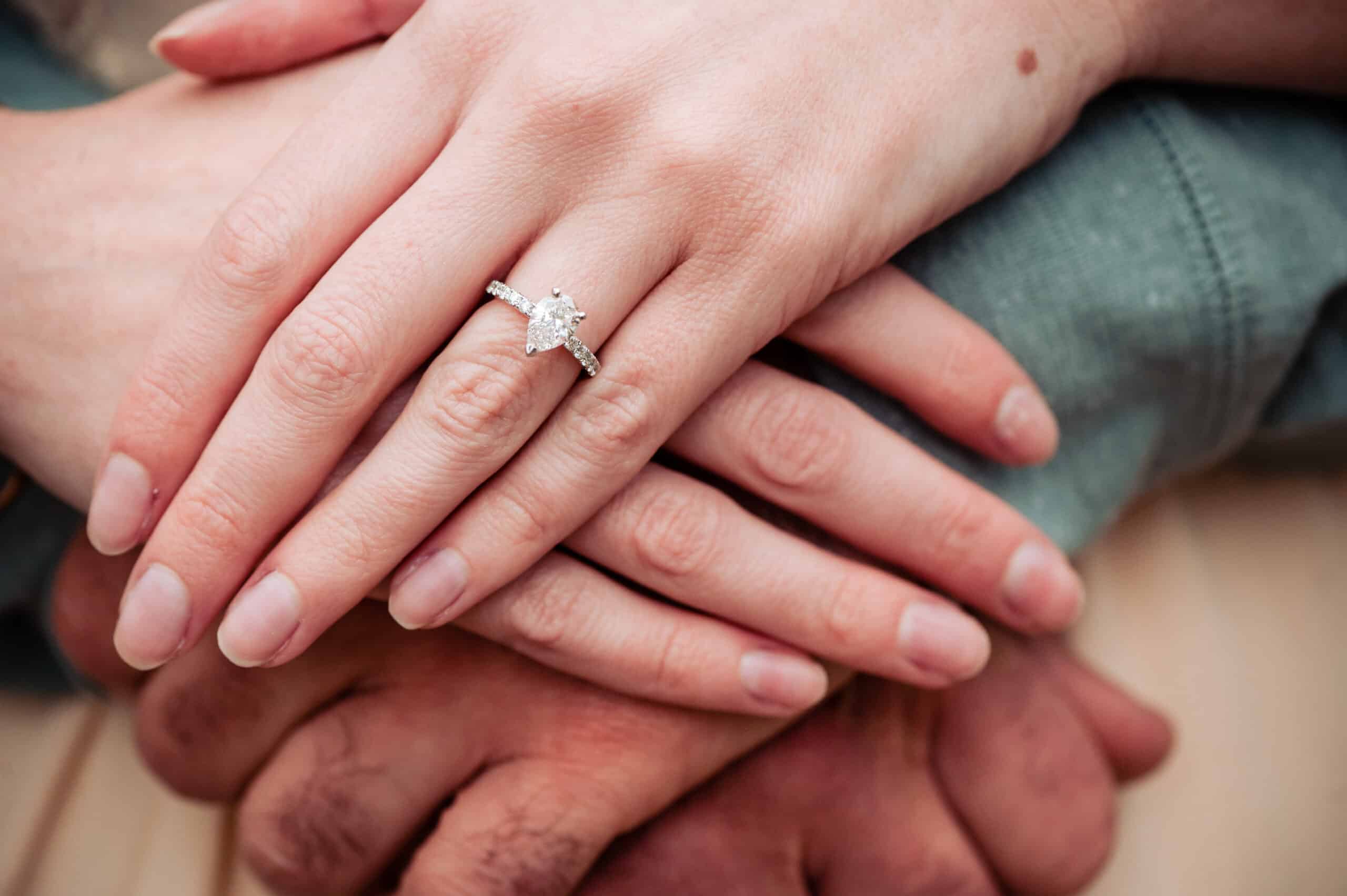 If you're looking for character in your engagement photos, check out the Main Line of Philadelphia, a cluster of 16 suburban communities along Pennsylvania's old main line of its historic railroad. In the northwest area outside of the city, this district is known for its prestigious "old money" feel, with each neighborhood offering its own distinctive vibe. Bryn Mawr is one of the most popular towns, but there are several neighborhoods to find endearing town squares and a plethora of natural outdoor appeal.
It's worth looking into other Philadelphia suburbs as well. Part of Philadelphia's culture is the diversity of its neighborhoods. Each has a unique identity and character, allowing engaged couples to choose from a variety of backgrounds for their photos.
Tyler Arboretum, Media, PA
West of Philadelphia in the city of Media, lies the beautiful grounds of Tyler Arboretum, and breathtaking backdrop for your engagement session. This 650-acre botanical garden with sprawling meadows, an enchanting forest, and pristine gardens offers a lovely atmosphere to photograph couples in love. Each season provides a broad range of unparalleled backdrops–from a colorful array of flowers in the spring and summer to the autumnal hues in the fall, and vibrant green conifers contrasted by white snow in the winter.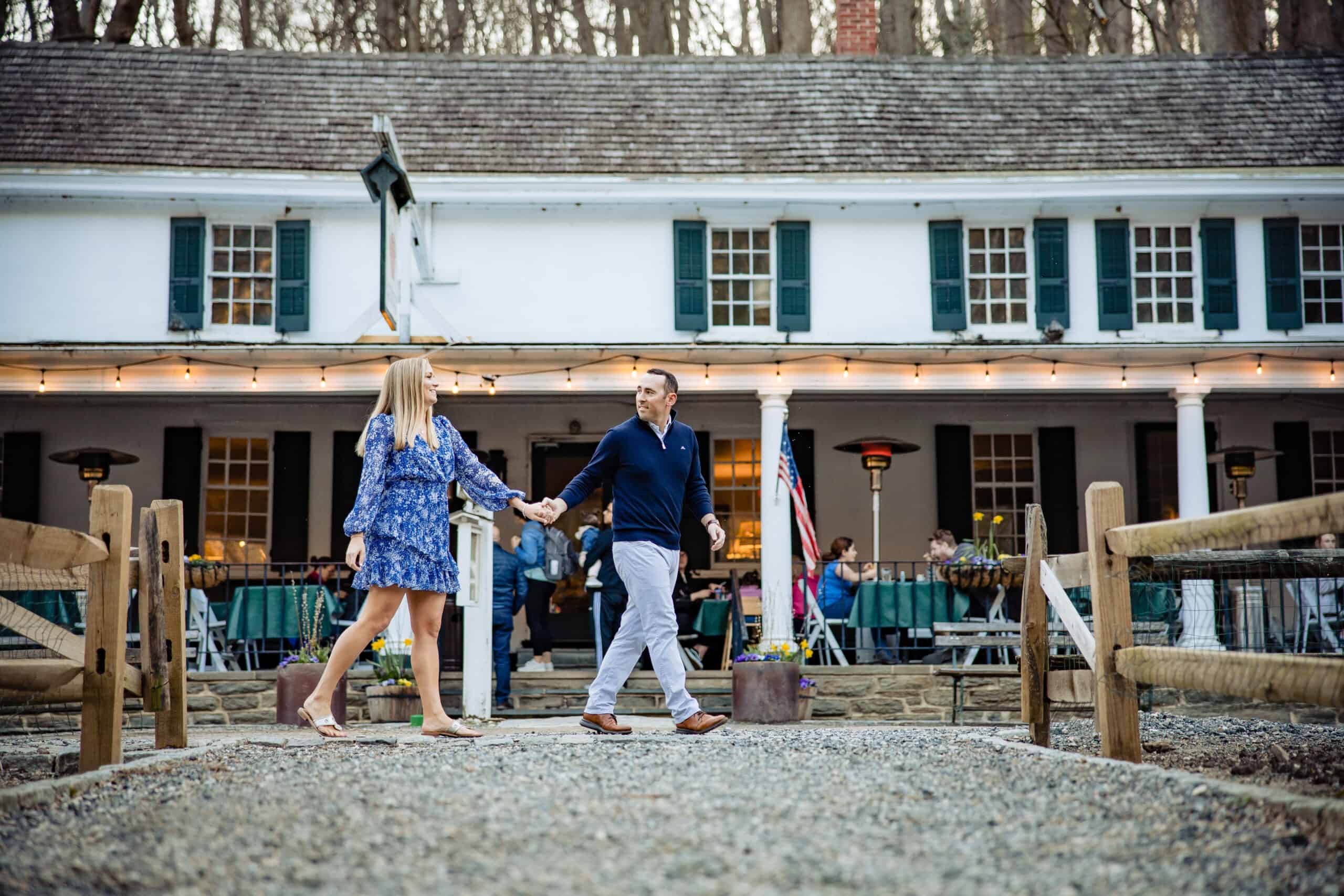 Nestled within the Wissahickon area of Philadelphia, Valley Green Inn is an ideal setting for engagement photo sessions. Here, the natural beauty sets the stage with a simple yet refined ambiance.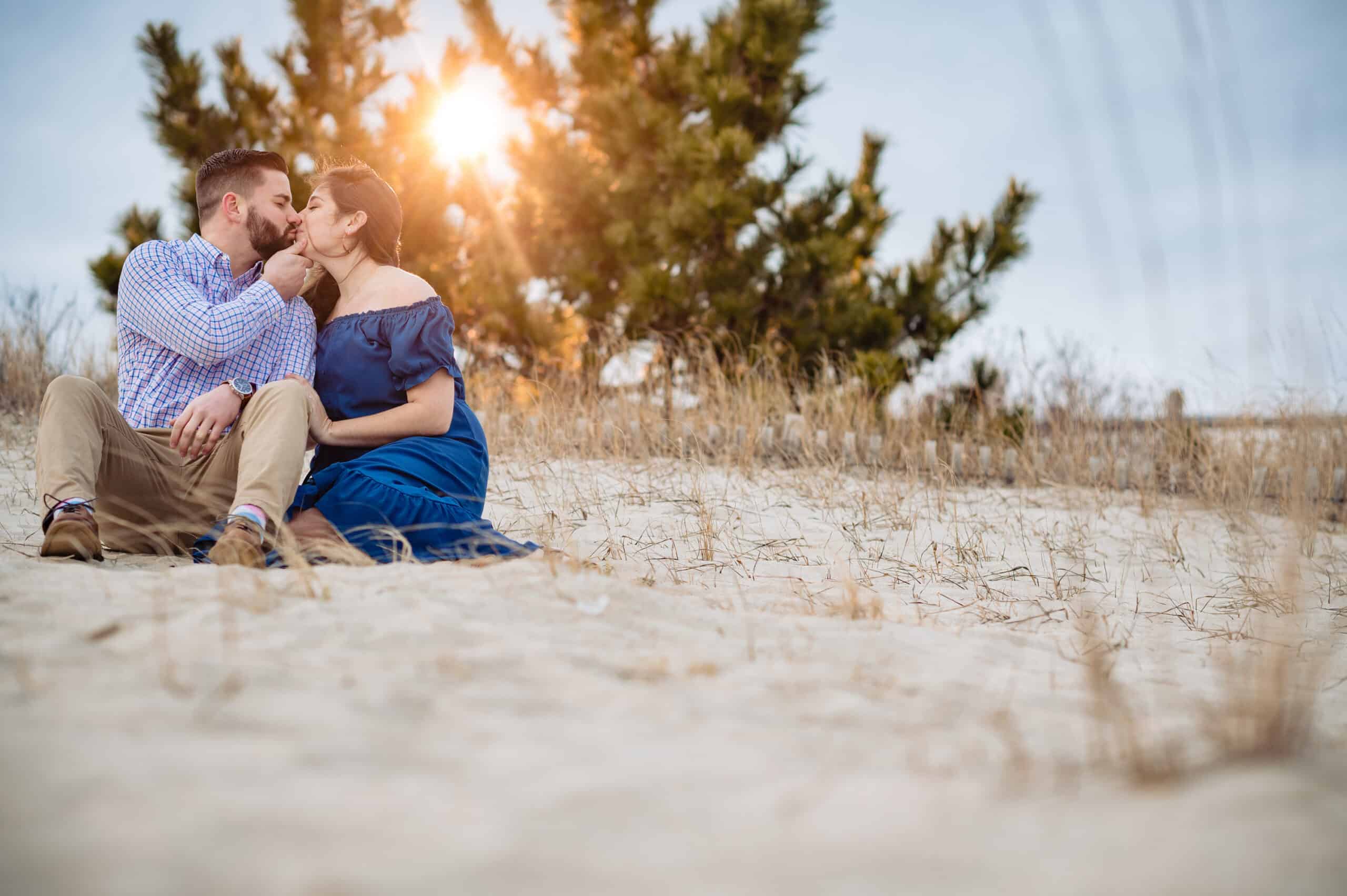 The old-world charm and nautical feel of Cape May make for exquisite engagement photo sessions. It is New Jersey's southernmost point and is known for its long stretch of beaches, Victorian architecture, and coastal culture. This iconic shore town is only an hour and a half drive from Philadelphia and has much to offer, so the options for backdrops are limitless!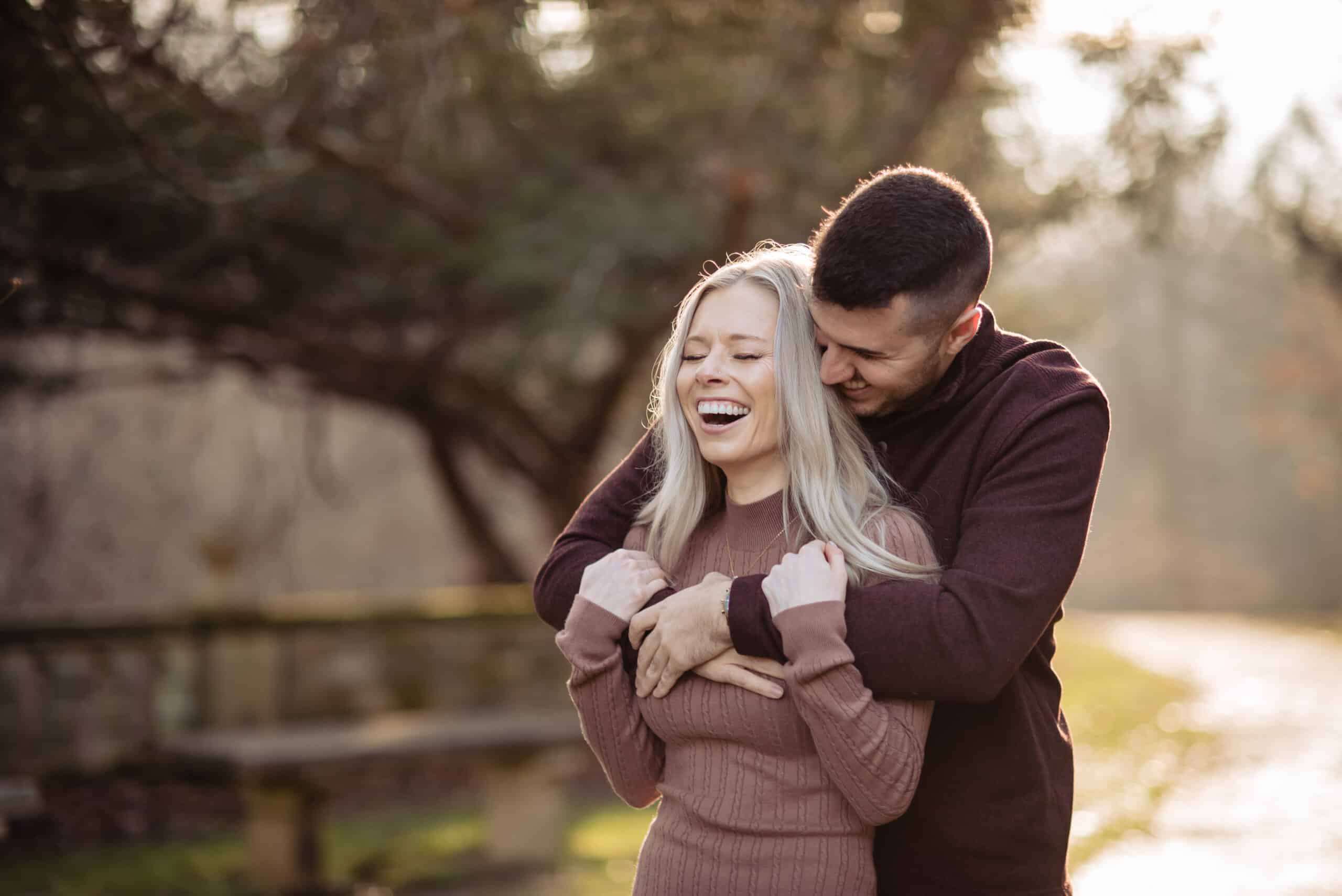 The bucolic atmosphere of Ridley Creek State Park provides an unforgettable setting for engaged couples to celebrate their upcoming nuptials with professional engagement photos. This park, located 30 miles west of Philadelphia, has it all–waterfalls, scenic trails, and gardens. It's home to Hunting Hill Mansion, which is an 18th-century gray stone farmhouse. You'll surely find several scenic spots within the thousands of acres of hills and woodlands.
Contact New Pace Today For Your Engagement Photo Session
Whichever location you choose for your engagement photo session, New Pace Wedding Films & Photo is ready to capture the love between you and your fiancee as you celebrate your engagement and prepare for your special day. Get in touch with us today and we can help you discover the perfect location for your engagement photo shoot!