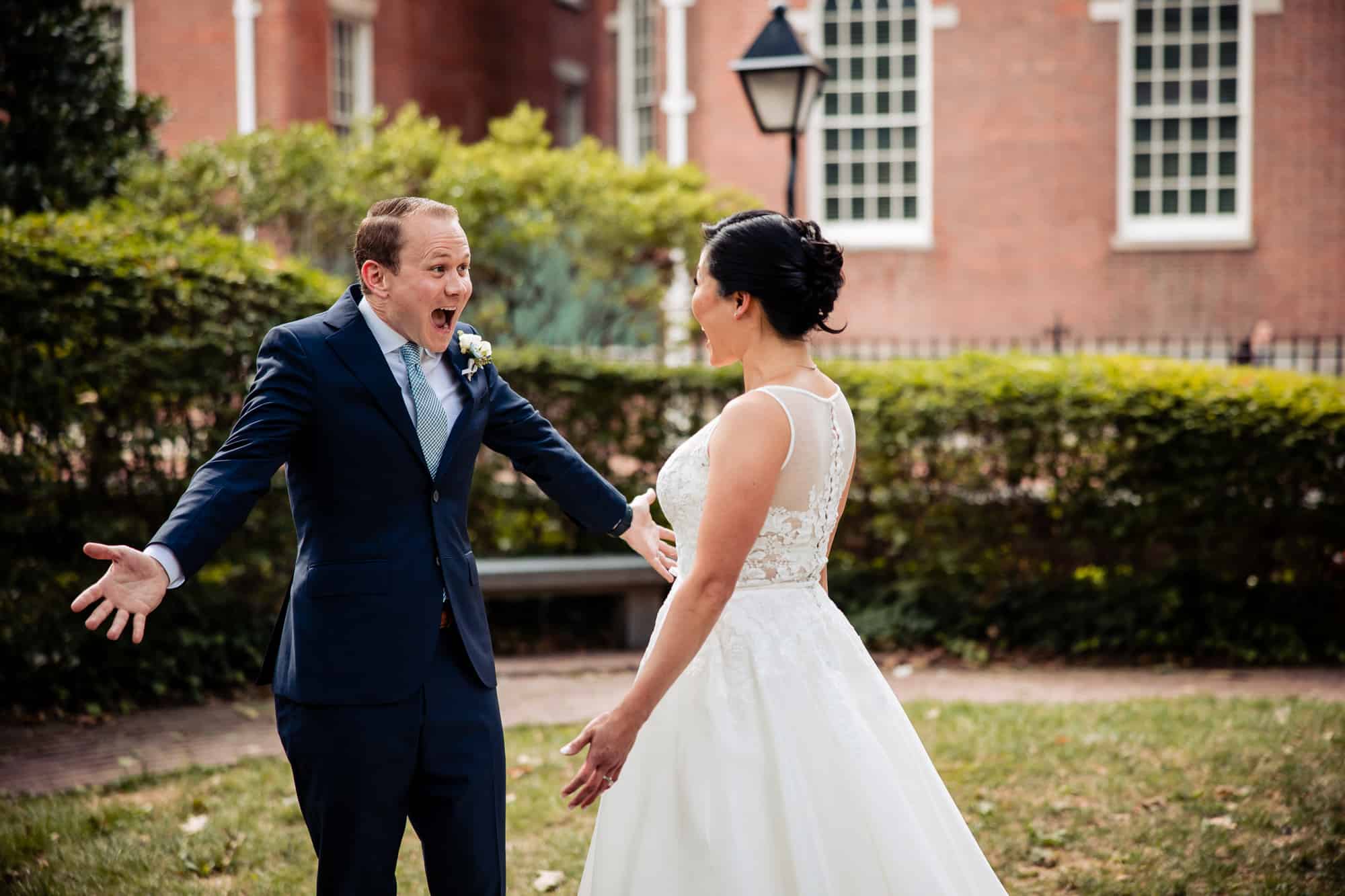 Often when discussing wedding day timelines and specific shots that each couple wants to get, we often suggest a first look. Some couples are familiar with the concept of a first look, but for those who aren't, the first look is a special moment where the couple can see each other for the first time before the wedding ceremony. While this may not be a traditional part of a wedding day, there are many reasons why you should consider having a first look on your big day.
In this blog post, we'll explore some of the benefits of first look wedding photos and explain why it can be a wonderful addition to your celebration.
A Common Wedding Superstition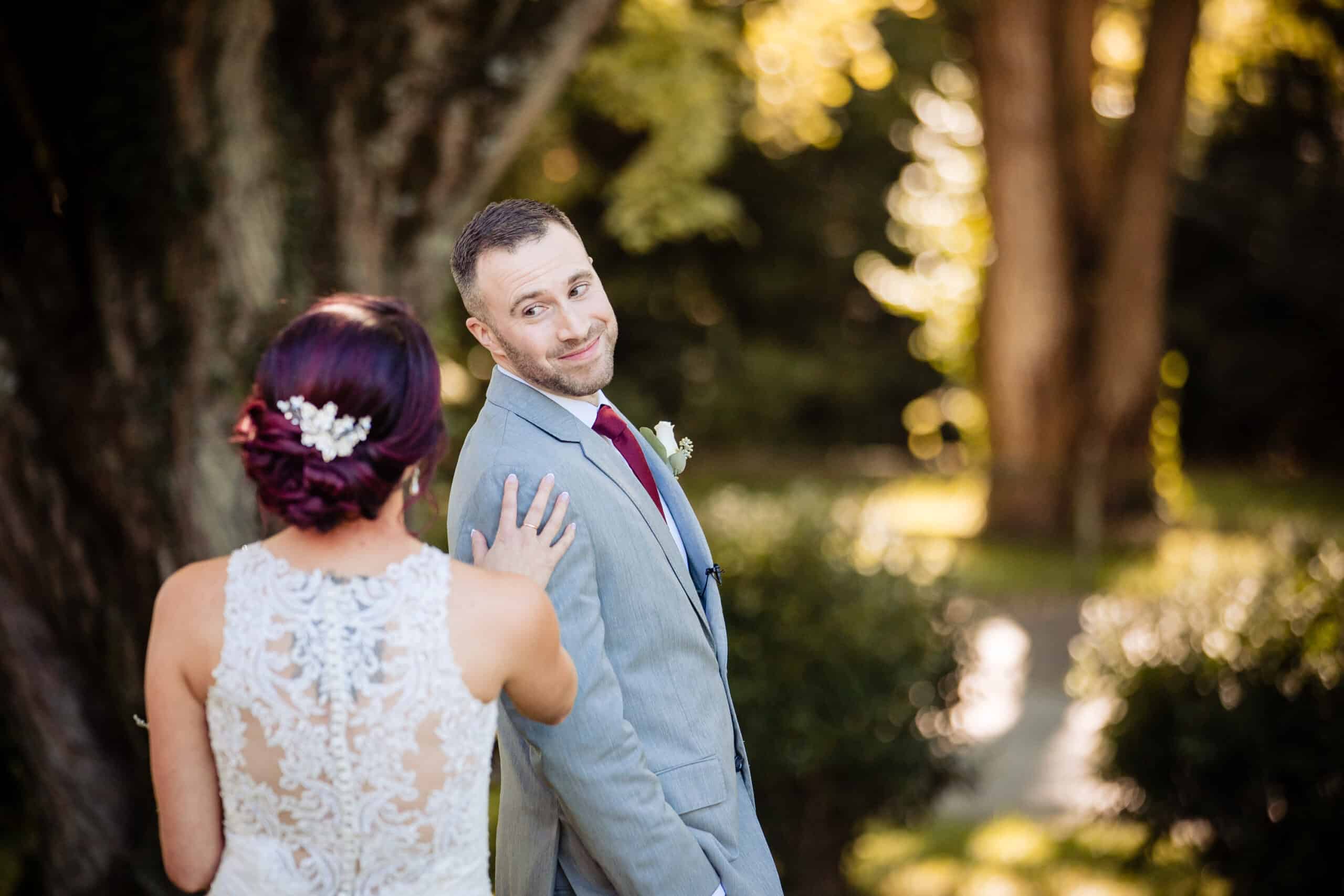 "But wait… a first look? Isn't it bad luck for the groom to see the bride before the wedding?!"
That is definitely a wedding superstition that has been around for centuries!
There is a traditional superstition that seeing the bride or groom before the wedding ceremony will bring bad luck to the couple. This belief originated in ancient cultures where marriages were arranged, and the bride and groom may not have seen each other before the wedding. In these cultures, it was thought that if the couple saw each other before the wedding, they might change their minds about the marriage. To prevent this, the bride would often wear a veil down the aisle so the groom would not see her until the last moment.
Obviously, this superstition has largely been dismissed in these modern times, and it is not uncommon for couples to see each other before the wedding. Some couples may follow this tradition to add a sense of mystery, fun, and anticipation to the wedding day. As your wedding day photographer, we ultimately respect your decision to opt for a first look, or if you choose to see each other for the first time as you walk down the aisle.
What's a First Look at a Wedding?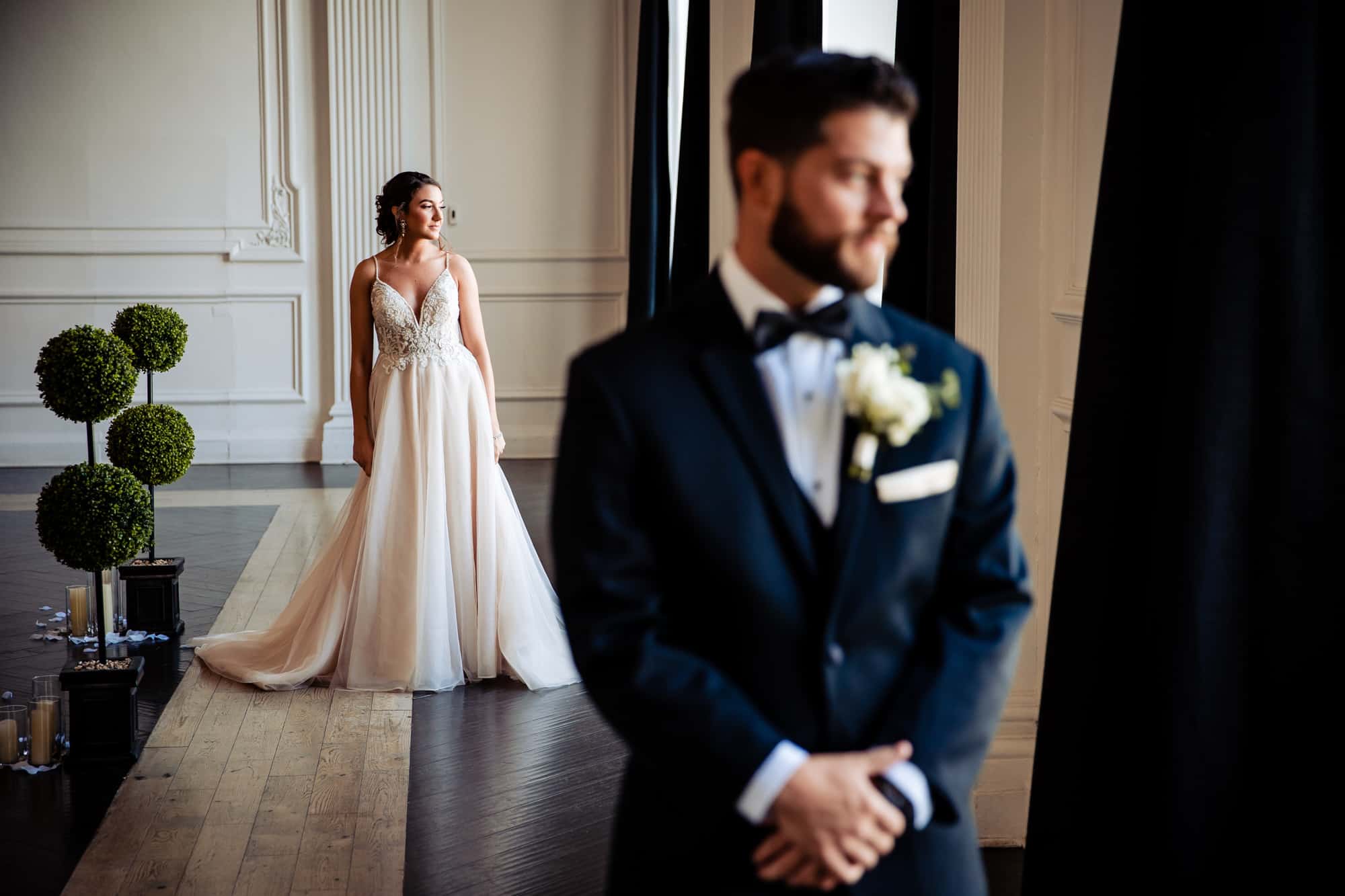 A first look on a wedding day is a special moment when the bride and groom see each other for the first time before the ceremony. This modern tradition allows the couple to spend some quiet, intimate time together before the hustle and bustle of the wedding day begins. The moment can be just between the couple (with your us, your trusted wedding photographer and videographer as your third wheels), or it can be witnessed by a small group of people, such as the wedding party or close family members.
During a first look, the bride and groom are typically brought to a private location, where they can see each other for the first time without any distractions. This can be a very emotional and intimate moment, allowing the couple to exchange words of love and affection, exchange gifts, share a special moment, and shake out some jitters.
Why Opt for a First Look?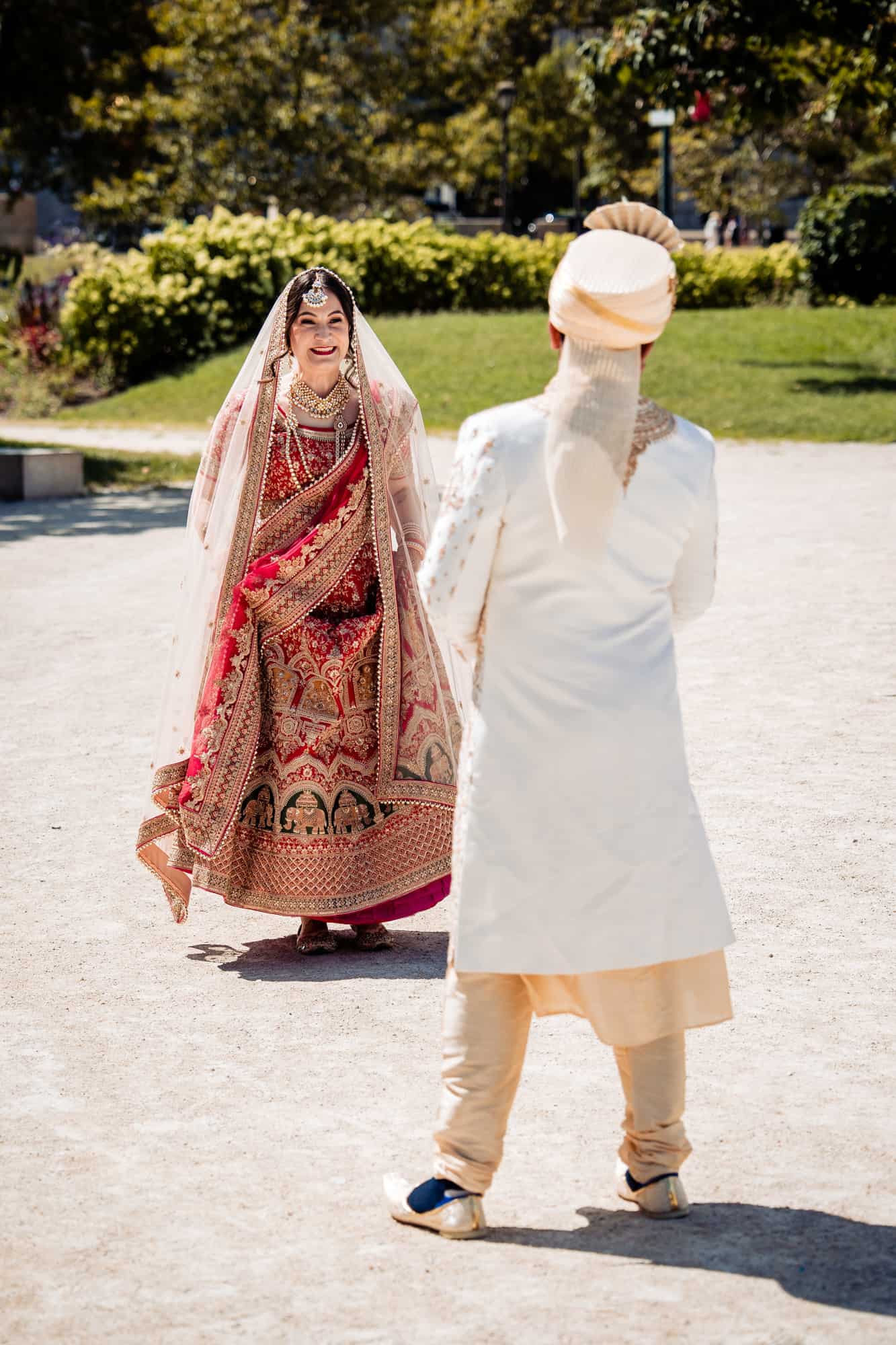 One of the main benefits of a first look is that it allows the couple to calm their nerves and relax before the ceremony. The wedding day can be very stressful, and a first look can provide much-needed peace and quiet before the ceremony begins.
​​As your wedding photography & videography team, we'd be remiss if we didn't highlight specifically why, from our perspective, the first look is a great idea. We will be there to capture the sweet reactions, smiles, and happy tears of seeing each other looking your best. These are often our couple's favorite photos from their entire gallery, and make for a very heartwarming clip in your wedding film. Beyond the candids, first look wedding photos allow us to capture some beautiful portraits before the ceremony.
How Long Do First Look Wedding Photos Take?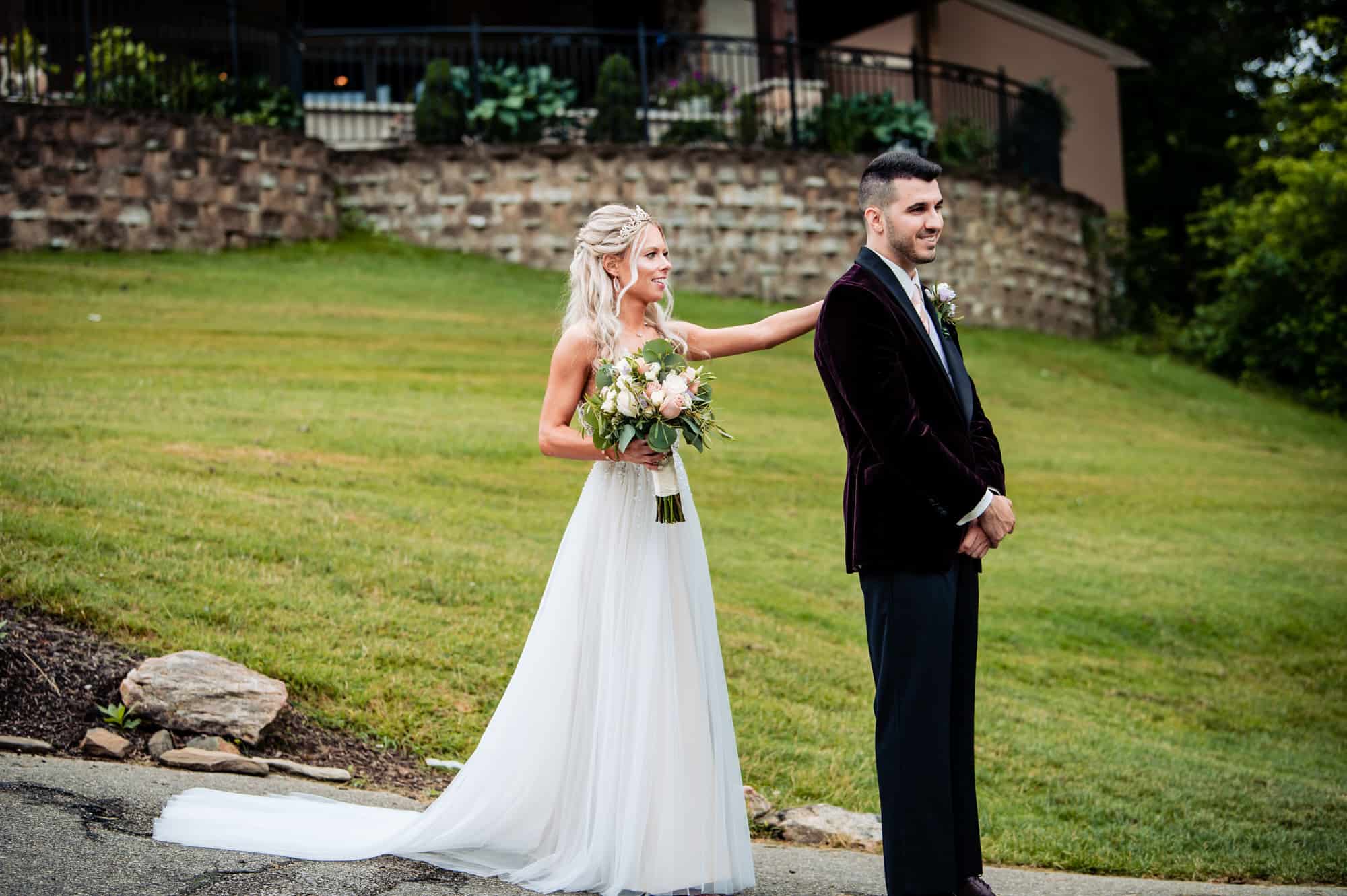 First look wedding photos typically take 15-30 minutes. The happy couple can take a few deep breaths, share a few sweet words, and then move forward with the exciting festivities of their day. Some couples may take formal photos with their entire wedding party and close family after the first look but still before the ceremony. It's great to catch everyone while their hair and make-up is still fresh, and before anyone has had a chance to spill anything on their sharp tuxes or gorgeous gowns. It also allows for a smoother transition from the wedding ceremony to the reception. The traditional cocktail hour is typically designed to occupy guests while the couple is taking more extensive photos with their family or wedding party. Taking your formal photos instead after the first look frees up time so the couple to take part in their cocktail hour, giving them more time with their guests.
Why First Look Wedding Photos are So Special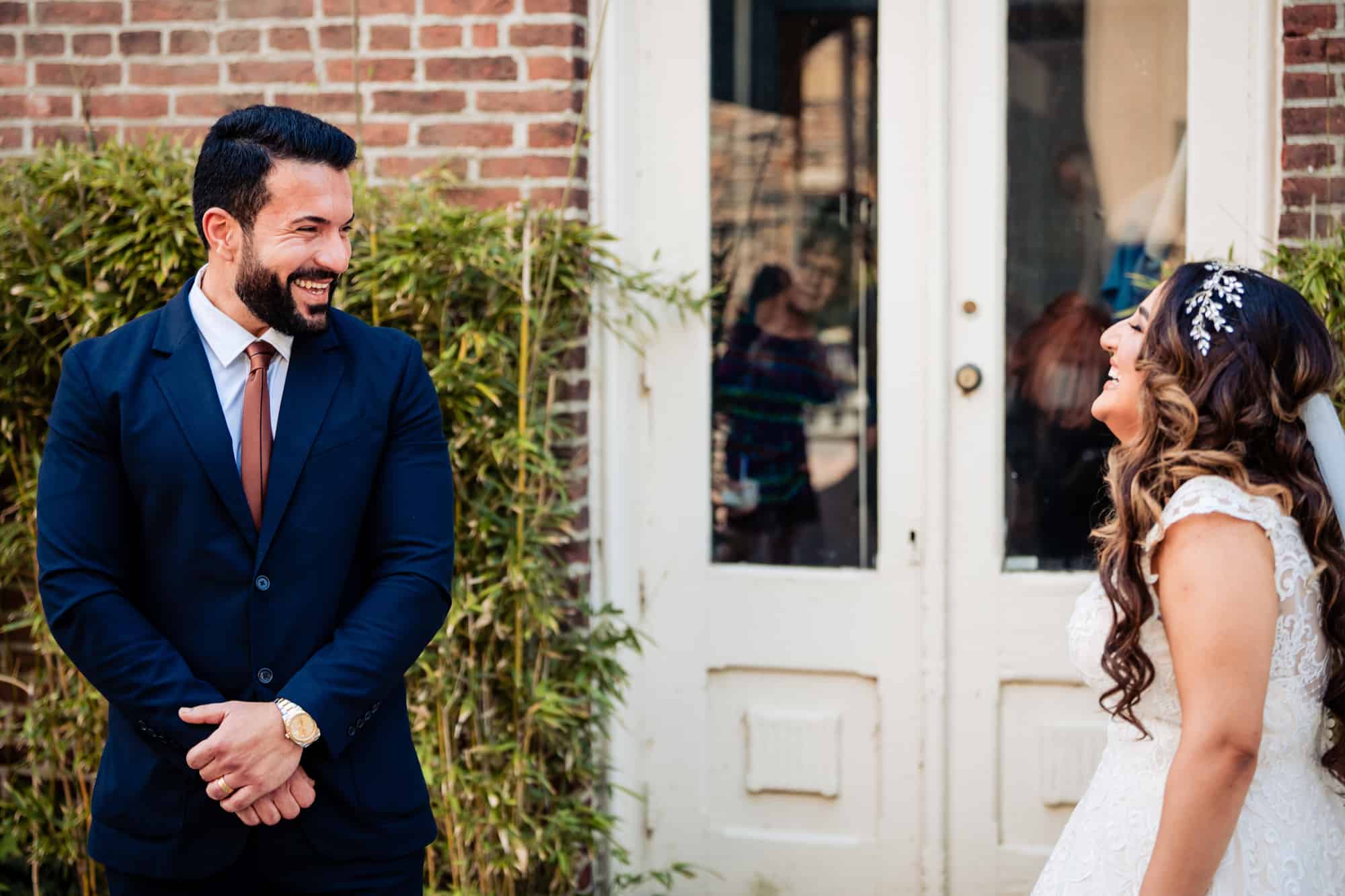 The first moment you see your partner on your wedding day is so special… whether before the ceremony or at the altar. The first look just allows it to be a bit more documented and intimate.
At New Pace Wedding Films & Photo, we are ready to capture the wedding of your dreams, whether you follow the traditional route or mix it up a bit! Contact Us today to see which of our packages is right for your special day!