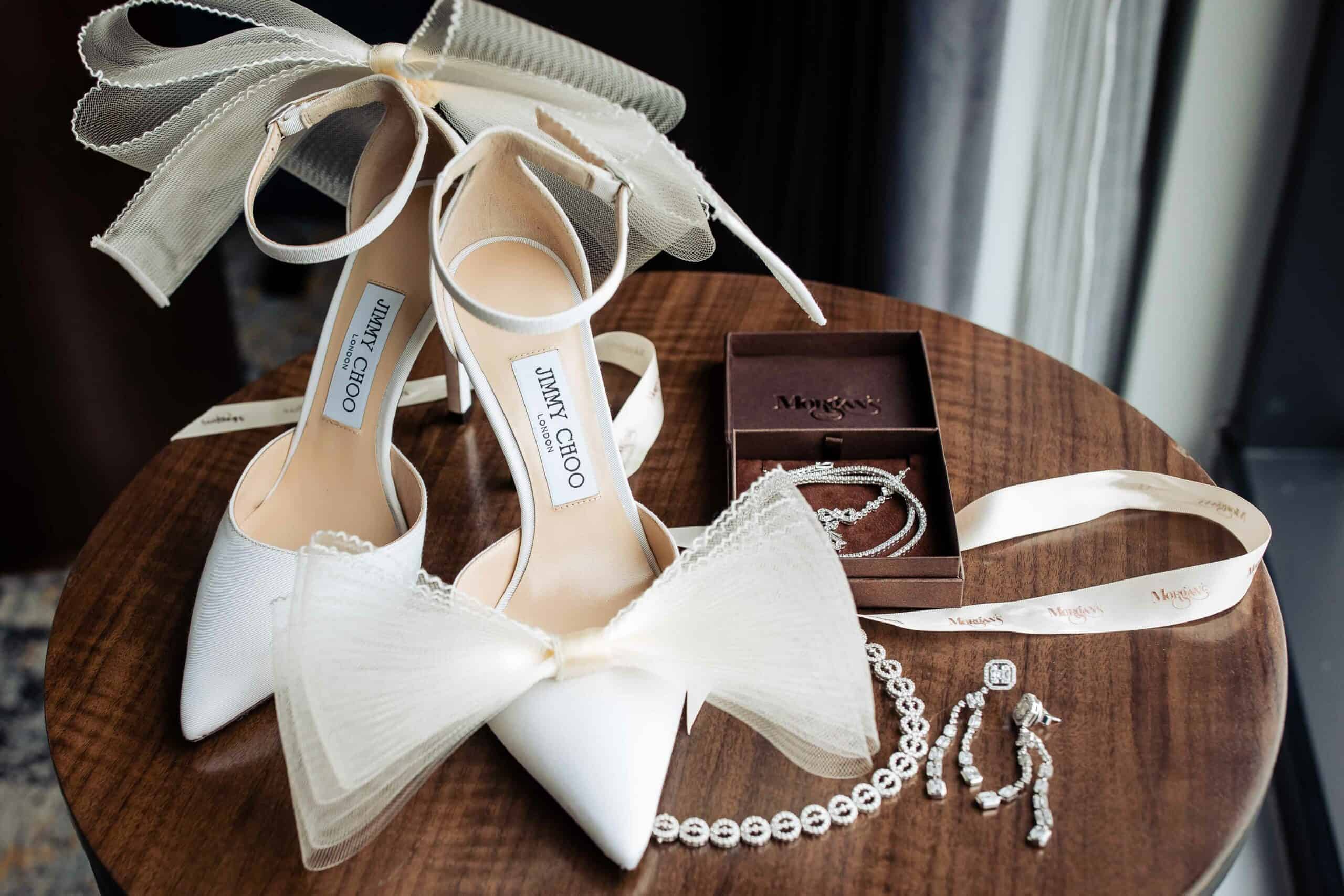 Flat lays are carefully arranged photographs taken from a top-down perspective, showcasing various objects and details related to your wedding day. Wedding flat lay photos have become an essential component of capturing the intricate details and aesthetics of your special day. These meticulously arranged arrangements of wedding-related items, such as invitations, rings, flowers, and accessories, not only showcase your unique wedding style but also serve as a delightful memento of the event.
Your photographer will work closely with you to bring your vision to life by arranging and capturing the desired look and feel of your flat lay.
Important Elements for Wedding Flat Lay Photos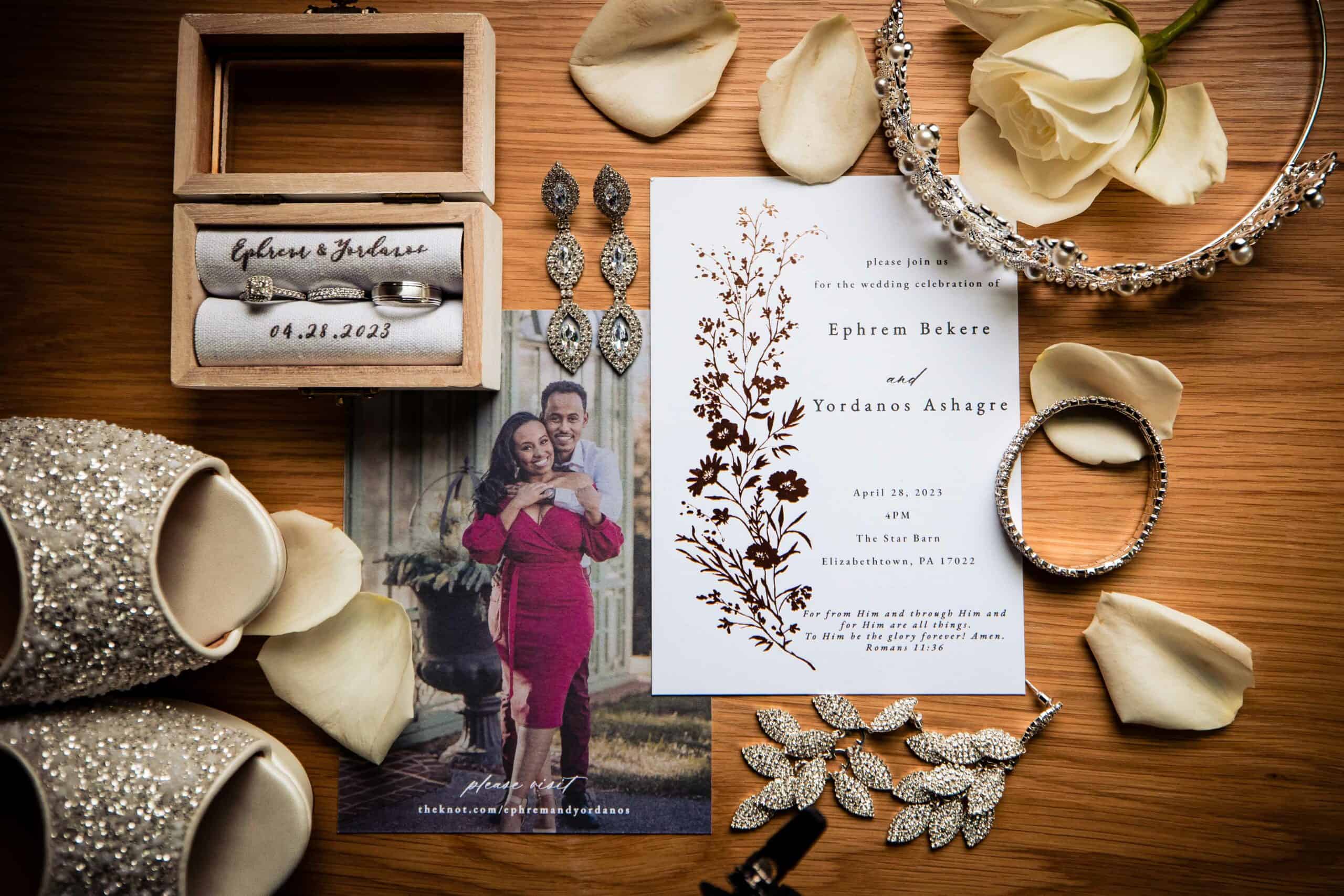 When preparing for your wedding flat lay photos, there are several items you should consider bringing so your photographer can create an aesthetically pleasing composition.
Here's a list of items you might want to include:
Wedding Rings: Your wedding rings are an essential element and represent the symbolic commitment. 
PRO TIP: Remember to bring both rings and make sure they are cleaned!
Invitation Suite: Gather your wedding invitation, save-the-date cards, RSVP cards, and any other stationery pieces that were part of your wedding suite.
Florals: Incorporate a selection of fresh flowers or floral elements, such as a small bouquet or individual blooms, to add color and elegance to the arrangement. You can also ask your florist for extra petals to use for your flat lay.
Bridal Accessories: Include the bride's shoes, veil or hair accessories, bouquet, garter, and even the perfume you will wear on your wedding day.
Items for the Groom: Include the groom's tie or pocket square, boutonniere, shoes and socks, and any other accessories such as watches, sunglasses, etc.
Jewelry and Accessories: If there are other jewelry pieces, such as bracelets, necklaces, or earrings, that were worn by the couple or gifted to them, you can include those as well.
Vows or Love Letters: If you wrote personalized vows or exchanged love letters, those can also be incorporated into the flat lay for an intimate touch.
Tableware: If your wedding reception includes unique tableware, such as customized place cards, menu cards, or special napkin holders, these can be included too.
Keepsakes and Memorabilia: If you have chosen any sentimental items or heirlooms to incorporate into your wedding day, such as family photos, vintage items, or meaningful trinkets, these can be great additions.
Wedding Favors: If there are small wedding favors or gifts for your guests, you can include a few of them to remember the special touch.
Styling Props: Lastly, to enhance the composition and add texture consider using additional styling props like ribbon, lace, decorative elements, or textures that match the overall theme and colors of your wedding.
Remember that the items included in a wedding flat lay will depend on the specific details you choose to include on your big day and your personal preferences. The goal is to create a visually appealing arrangement that tells a story.
How to Arrange the Flat Lay – Flat Lay Photography Tips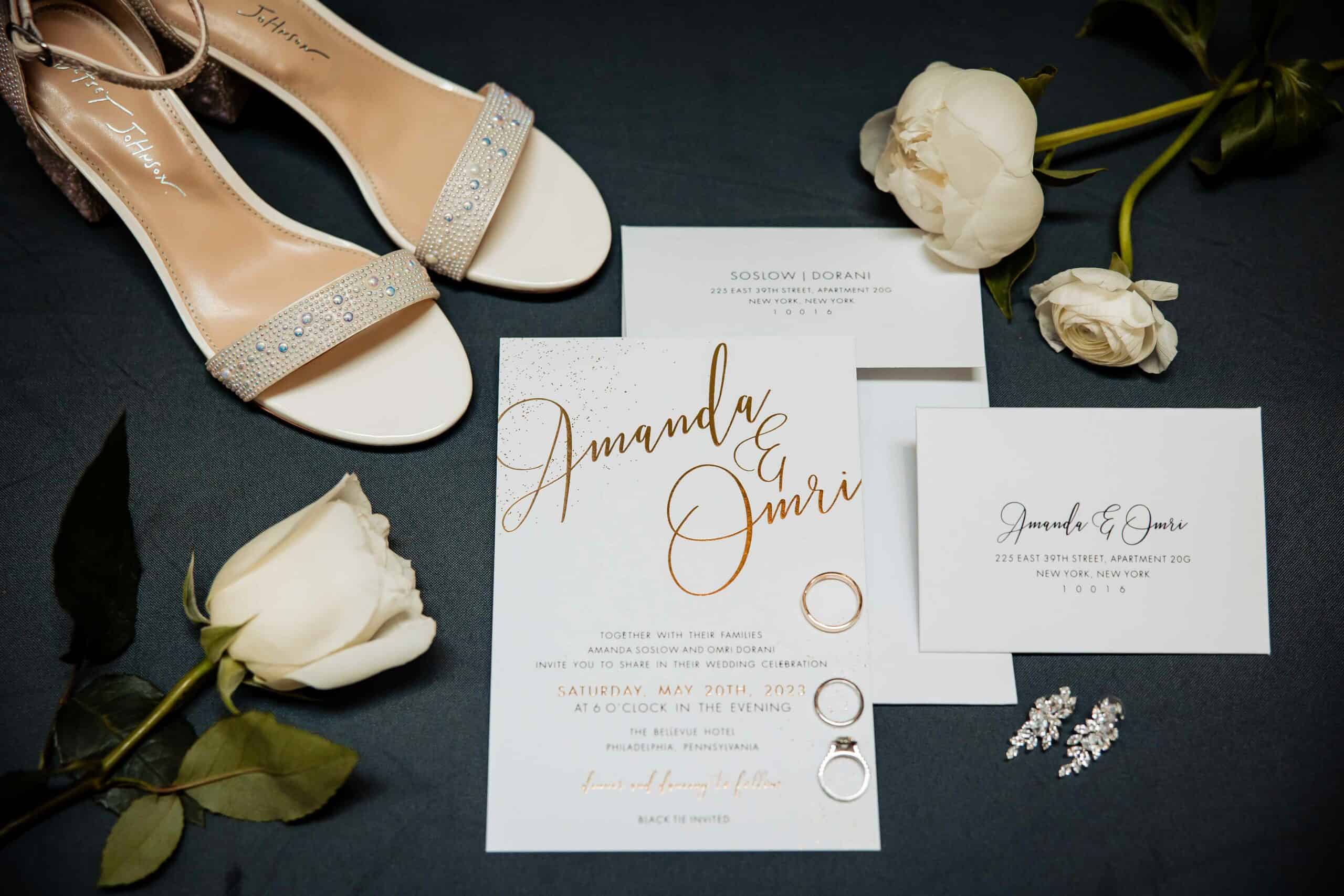 As photographers, incorporating different textures and layers adds depth and interest to the composition. This can be done by using a variety of fabrics, such as lace or silk, alongside other elements like foliage, ribbons, or delicate floral arrangements. Second, color coordination plays a crucial role in achieving a harmonious and cohesive look. Selecting items that complement your wedding's color palette or theme can help tie the composition together. Additionally, utilizing negative space effectively can enhance the overall aesthetic of the flat lay. Leaving areas of empty space allows the eye to rest and appreciate the elements that are present, adding balance and elegance to the composition.
You can prepare all of your items in one place before your wedding day and put them in a box (or somewhere safe). The day of your wedding, all you need to do is bring all your items and your photographer will take care of creating a stunning composition.
How We Capture the Flat Lay Photos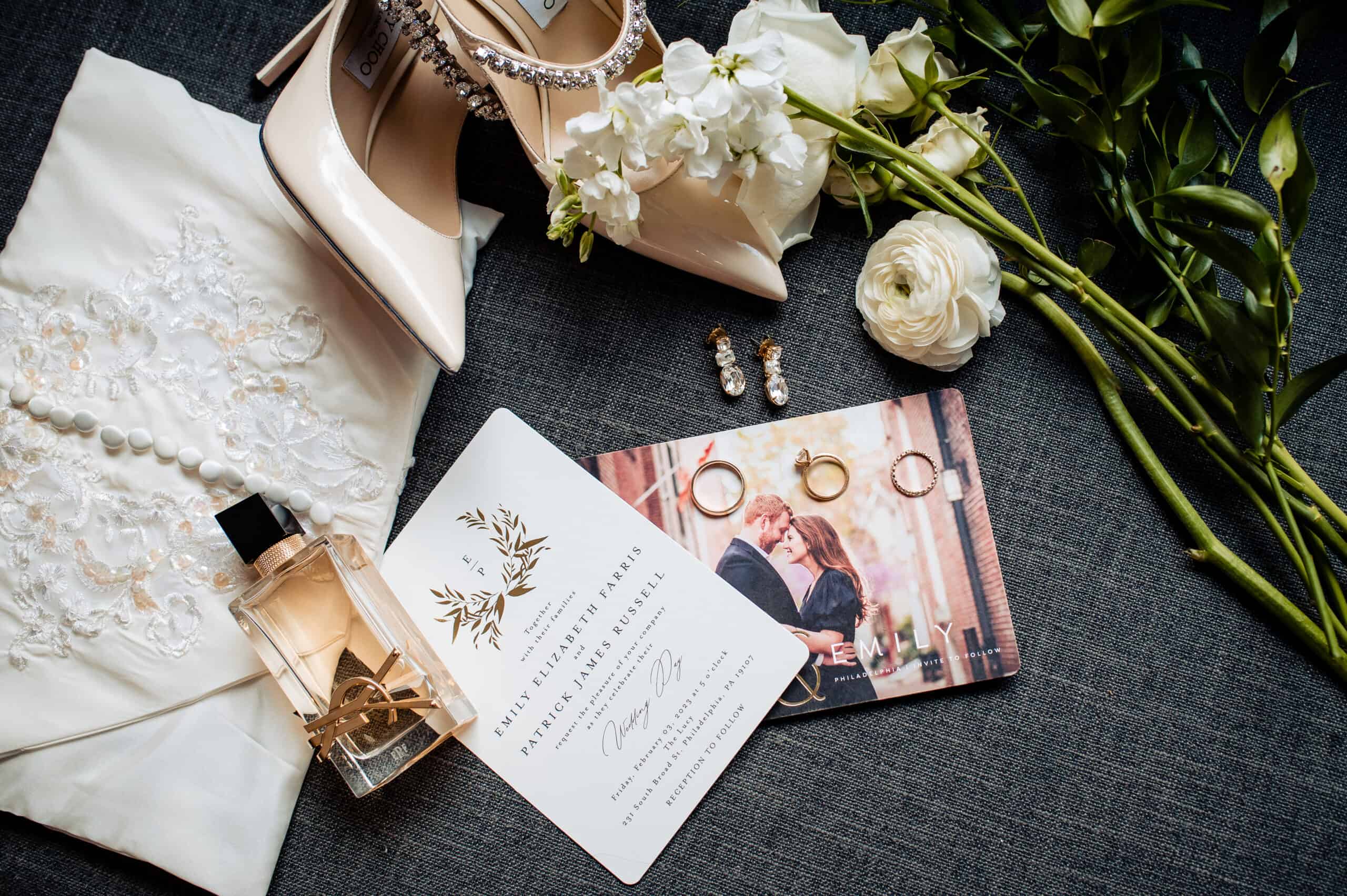 When capturing flat lay photos at a wedding, your photographer employs various techniques to ensure stunning results. Lighting is key to achieving the desired ambiance and highlighting the details. Your photographer will carefully consider the natural or artificial lighting sources to create soft, even lighting that enhances the textures and colors of the elements.
Camera angles play a crucial role in capturing the composition effectively. Your photographer may shoot from directly above to capture the flat lay in its entirety or experiment with different angles to add depth and dimension. Playing with the depth of field allows your photographer to selectively focus on specific elements, creating an aesthetically pleasing blur in the background. This technique adds visual interest and draws attention to the key elements.
Lastly, your wedding photographer will explore different arrangements and angles to find the most visually appealing and captivating composition. They may rearrange elements, remove distractions, or try unconventional angles to capture the unique details of the wedding. By employing these techniques, your photographer ensures that the flat lay photos are visually striking and tell a beautiful story of the couple's special day.
Final Thoughts
At New Pace Wedding Films & Photo, we're here to answer all of your wedding photography questions! Our expert team of photographers will work alongside you to capture all your special wedding day memories so you can look back on them for years to come.
To learn more about New Pace Wedding Films & Photo packages and how we can best serve you, please contact us to set up a call!