When it comes to filming your wedding — one of the biggest and definitely most planned days of your entire life — the sky's the limit. Literally. You've put lots of thought into every detail of your venue, your dinner, your flowers, and your look. Why not document it all from a bird's eye view to put it all into perspective?
By hiring a wedding videographer, you aren't just committing your heart to the love of your life on that day; you're also committing to capturing all the large and small moments from your day — the ones you cherish that make it memorable, fun, and fresh. It means you can rewatch every detail of your first dance or the best-man speech at the push of a button.
There are so many ways to make your wedding video unique and interesting, but perhaps one of the best ways to gain a new perspective on your day is with sweeping drone footage taken from above.
When you hire New Pace Weddings as your cinematic videographer to record your wedding, we can use a drone at heights as high as 400 feet to capture sweeping and cinematic images of your wedding and the surrounding views for a Hollywood-esque quality to your wedding video. In combination with traditional videography, your wedding video will take on an emotional and breathtaking narrative.
What Types of Shots Can you Expect from Drone Videography in Your Wedding Video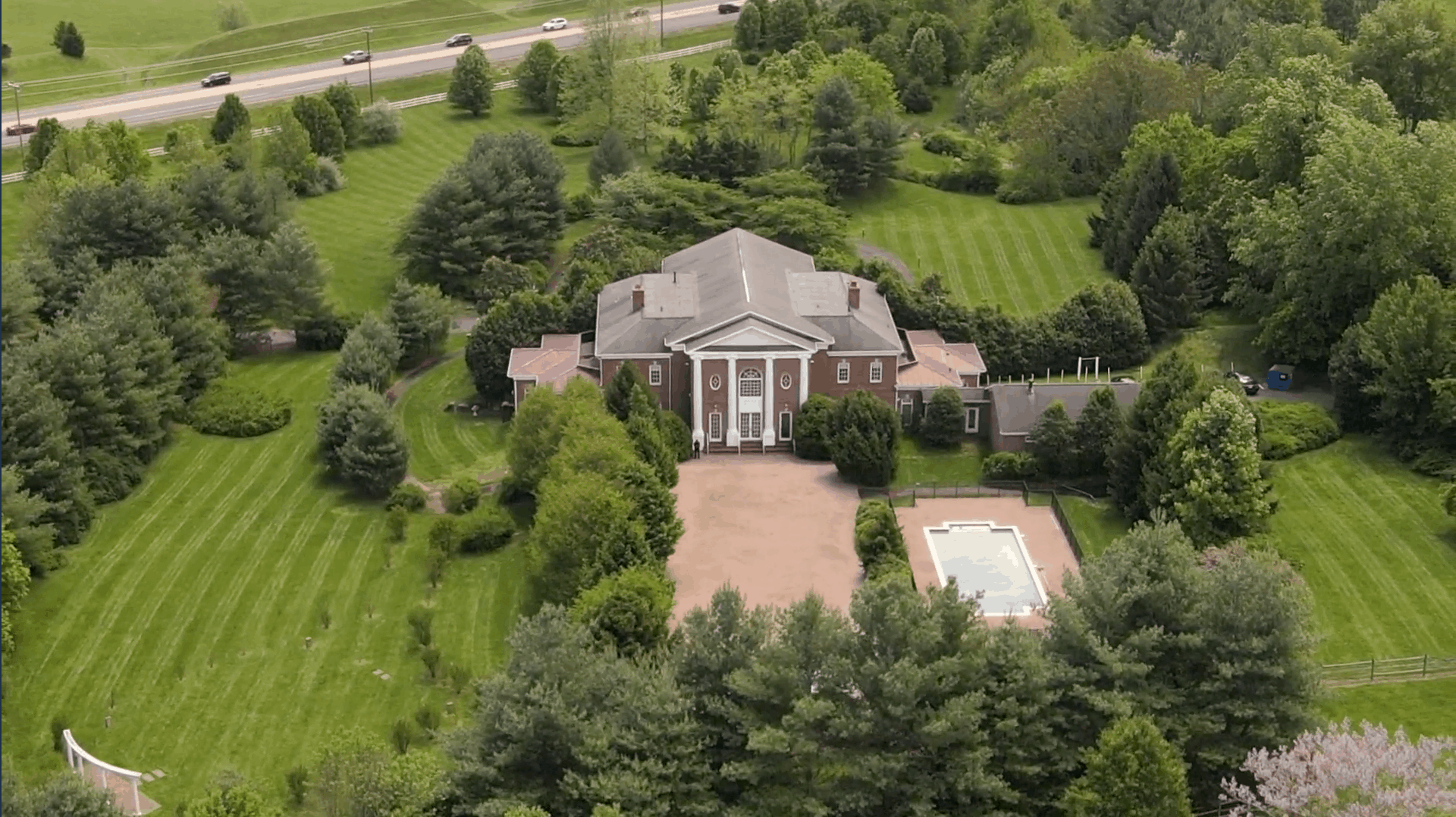 Drone footage can enhance your wedding film by adding different points of view, complementing the other footage our experienced videographers gather throughout the day, possibly including moments like group photos, pre-staged glamour shots, quiet moments shared where it's just the two of you, and overhead shots of the wedding party leaving the venue.
Let's be real – planning a wedding is a ton of work. We know that you spend countless hours choosing a venue and selecting intricate decor and each aspect of your wedding's design. Our drone footage will highlight the unique aspects of your venue's scenery, like overhead shots of flower petals coating the ground, for instance. You can have overhead footage of the wedding party walking down the beach, or through changing fall foliage. Our videographer can even take wide and expansive shots of vast outdoor scenery such as waterfronts, mountaintops, scenic farmsteads, or the rolling hills of a winery to fully paint the picture of your wedding on your special day.
It's all about setting the scene of your wedding and preserving the little, lifelike details. Were the leaves changing color? Was there fresh snow on the ground? Were the waves rolling with life, or was the water crystalline and flat? We can capture it all with drone videography.
Why Drone Videography Is Different from Regular Wedding Videography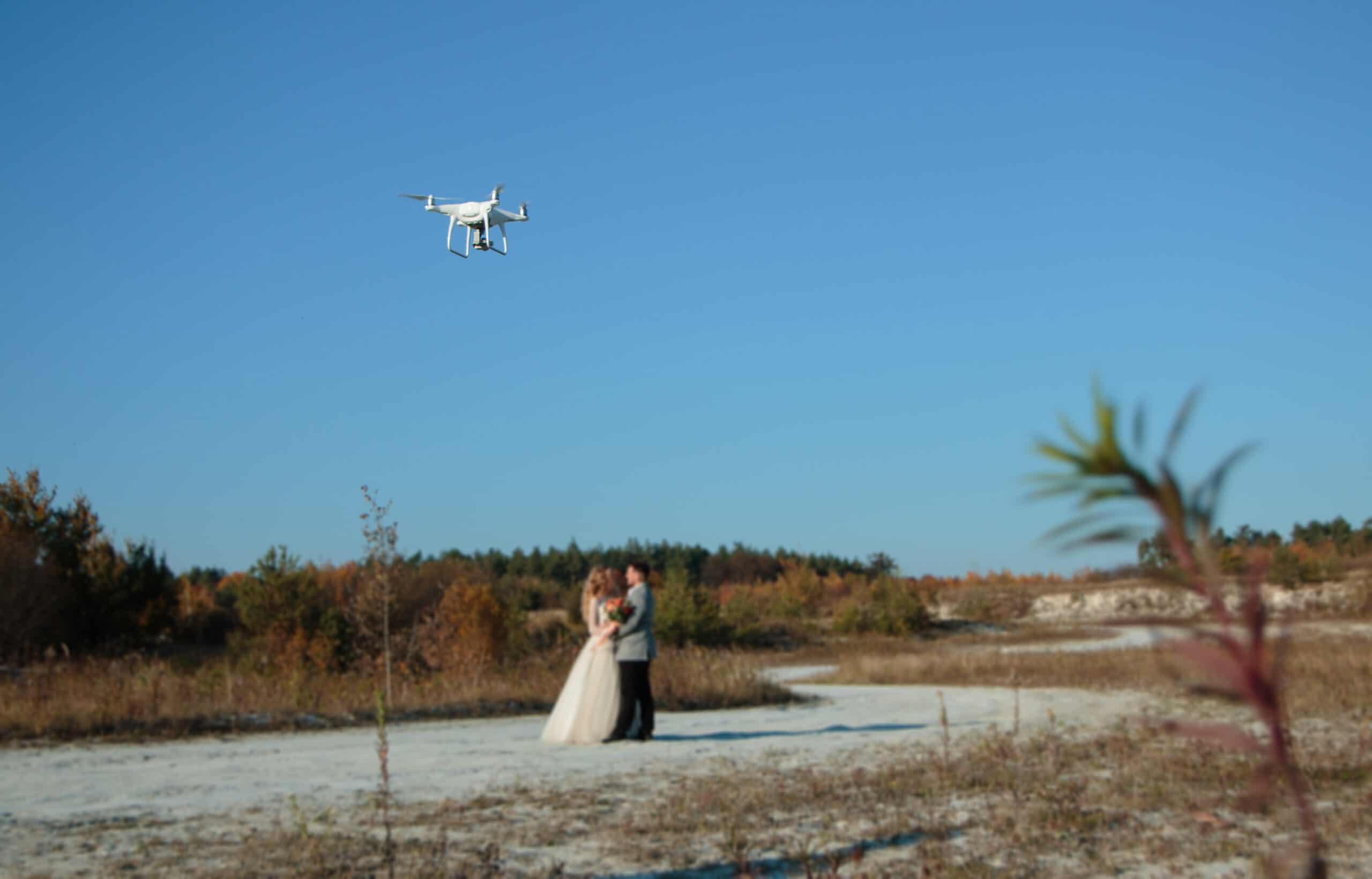 With drone footage, your wedding video's visual aesthetic can really spread its wings — in a very real way. Disrupting the repetition of ground-level footage, video drones record your wedding and the surrounding landscapes from the sky. These shots add more visual interest, soaring movement, and appeal to the eye that ground-level angles just can't achieve.
There's only so much you can do with a ground-level camera. Drone videography, on the other hand, opens all new kinds of creative doors — allowing your wedding videographer to shoot from new viewpoints and sky-high angles. Not only will the footage be more interesting, but it will also set your wedding video apart from any others your friends and family have seen.
One of the standout features of drone video footage is its ability to make your wedding video look high-end and cinematic. It's one of the most effective, emotion-filled ways to capture the same feeling of getting swept away by the romance and emotion that accompanies your wedding day.
You'll feel like you're reliving the event in person every time you watch the video. It's not only the precision skill of our videographer or the high-quality of the camera that makes this achievable. Drone footage simply allows for a type of footage other cameras don't.
Wide-panning establishing shots will set the scenery for your viewers, showing the venue and its surroundings from the air. Whether it's a beautiful sunny day, a crisp autumn afternoon with changing leaves, or a windy morning at the beach — the full aesthetic beauty of your wedding will translate seamlessly to film.
Drone videography can do this for you by capturing aerial footage of you and your new spouse delighting in each other's company and taking in the great outdoors and the unique features of your wedding venue. With this sort of footage, your wedding video will take on a new level of grandeur.
Your Philadelphia Wedding Videography Team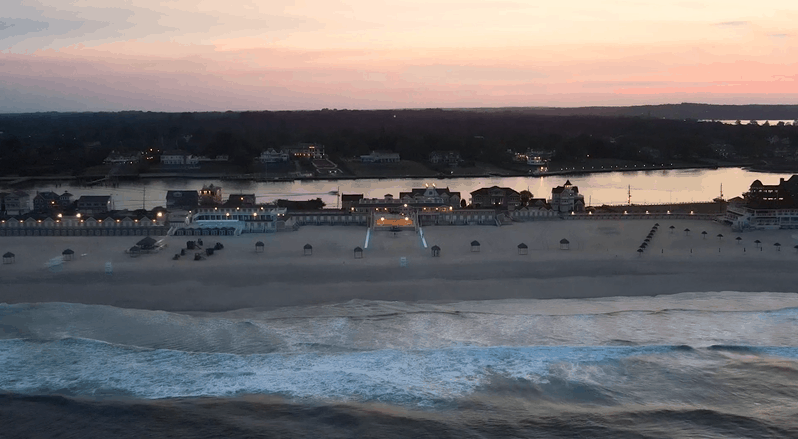 If you're looking for a hand-crafted modern wedding film that captures every moment of your big day, let's talk soon. Adding a drone to your wedding videography package is simple and easy to do at any level. Or, check out the wedding films of a few of our real-life couples who opted to add drone footage to their wedding cinematography package to elevate their entire wedding film. We'll customize your videography package to you, and adding drone footage is a cinch.
New Pace Weddings is your Philadelphia wedding videography team serving Pennsylvania, New Jersey, Delaware, Maryland, Virginia, New York, and beyond! If you're looking for a hand-crafted modern wedding film that captures every moment of your big day, reach out today to ensure your special day is even more perfect!