Looking at wedding venues in Lancaster, PA? Selecting the location of your wedding is perhaps the biggest, most important decision you make as you plan your big day! All the other choices – colors, decor, menu, floral arrangements – will fall perfectly into place once you pick a venue. Not only does your venue set the scene, but also the tone of your ceremony and reception. For instance, a wedding on a farm will have quite a different mood than a wedding in a sleek, industrial space, so you'll likely opt for details with a rustic feel.
Whether you're considering that rustic vibe or a more modern feel, look no further than Lancaster, PA – this town has it all. At New Pace Wedding Films and Photo, we've worked with happy couples who have chosen some incredible wedding Lancaster wedding venues. Here are some of our favorites.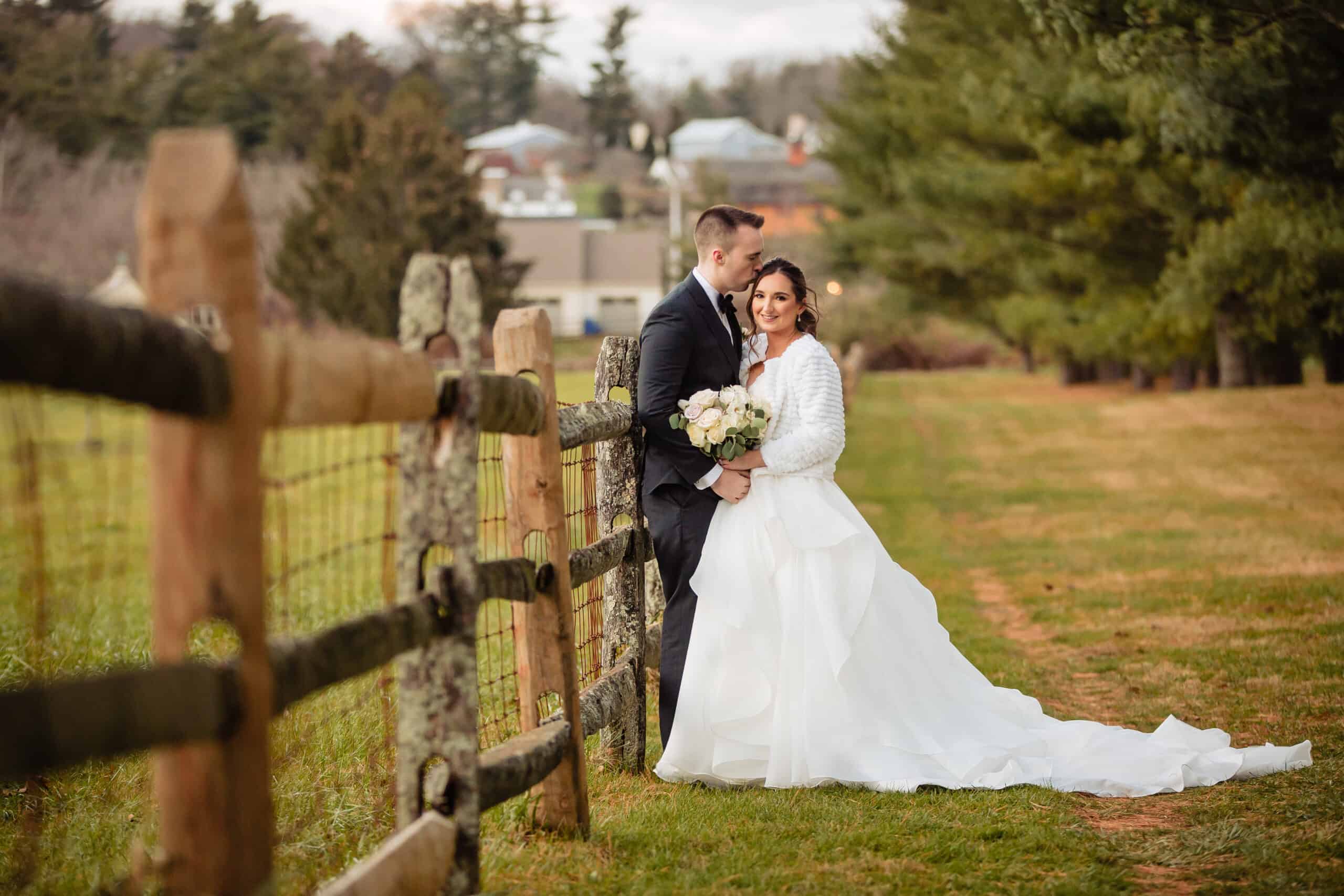 Our Favorite Wedding Venues in Lancaster, Pennsylvania
The Farm at Eagle's Ridge
Location: 465 Long Ln, Lancaster, PA 17603
Phone Number: (717) 584-5179
Guest Capacity: Up to 200
Website: https://farmateaglesridge.com/
If you have your heart set on the easy elegance of a barn wedding, this is the location for you. The charm of the two-centuries-old stone farmhouse located at Eagle's Ridge will immediately captivate you. The stunning 150-acre property also boasts expansive greenery, mature trees, and spring-fed ponds; a perfect opportunity to exchange vows amid a breathtaking landscape. Be sure to find the enchanting weeping willow for the perfect intimate backdrop for your first-look photos.
The farm's most popular attribute is the beautifully renovated barn, which can seat up to 200 guests. It features exposed beams and wood floors juxtaposed with sparkling chandeliers to give a rustic-meets-luxury feel, and the adjacent stone patio is perfect for taking the celebration out into the open air.
Excelsior
Location: 125 E King St, Lancaster, PA
Phone Number: (717) 715-5957
Guest Capacity: Up to 250
Website: https://excelsiorlancaster.com
This stunning venue offers a combination of traditional and modern architecture which is unlike anything you've seen before. Steel beams hover over the traditional, ivy-covered courtyard, and the moody, stoned walls of the brewer's catacombs provide warmth and texture that will give an inspiring ambiance to your wedding.
This historic landmark in the heart of downtown Lancaster is ideal for wedding parties between 100 and 275 attendees. If you're looking for a one-of-a-kind space with vintage flair, Excelsior may be your match!
Cork Factory Hotel
Location: 480 New Holland Ave #3000, Lancaster, PA 17602
Phone Number: (717) 735-2075
Guest Capacity: Up to 200
Website: https://www.corkfactoryhotel.com/
The authenticity of this 19th-century urban building has been beautifully preserved and thoughtfully updated for a contemporary industrial-chic wedding vibe.
The natural light flooding in through every window and natural brick romantically softens the atmosphere and will surely make for gorgeous wedding day moments and memories.
Cork Factory can accommodate up to 250 wedding guests and has a variety of exceptional event spaces with a rugged, yet luxurious feel.
Mill at Manor Fall
Location: 380 Old Blue Rock Rd, Millersville, PA 17551
Phone Number: (717) 871-1806
Guest Capacity: Up to 150
Website: https://themillatmanorfalls.com/
Located in Millersville, PA, The Mill at Manor Falls is one of the newest wedding venues in the area, minutes from downtown Lancaster. Originally built in 1831, the previous flour mill was lovingly restored and renovated a few years ago to host elegant, yet relaxed weddings of up to 160 guests. This venue allows only one event per day, so soon-to-be newlyweds and their guests will enjoy a fully exclusive and private affair as you celebrate your momentous day.
You can choose between indoor or outdoor locations throughout the property for your ceremony. If you're looking for a nature-inspired vow exchange, follow the stone path through the lush greenery to Little Conestoga Creek. Here you'll find the hallmark of the estate immersed within the lush woods – the breathtaking waterfall. Or, you can say your 'I dos' at the mill itself, which is a gorgeous stone-clad building with modern features like climate control, but with rustic accents such as exposed wooden beams, wooden floors, and a quaint fireplace. This warm and inviting space is an incredible, unique place to celebrate your union with all of your family and friends.
Bluestone Estate
Location: 30-A Refton Rd, Willow Street, PA 17584
Phone Number: (717) 333-5665
Guest Capacity: Up to 300
Website: https://bluestoneestate.com/
Bluestone Estate is a venue with enchanting character located on 110 acres of rolling countryside and an exquisite setting for your wedding festivities. This historic destination perfectly combines rustic appeal with refined amenities to make for a truly unforgettable experience.
The property features the main house that was built 250 years ago from locally quarried bluestone (which is the namesake for the farm), two large courtyards, a delightful pond, and the Barn Grand Hall. The recently refurbished barn was built in 1822 and with its 9,000 square feet, it offers plenty of room for all of your loved ones to dine and dance; it can seat up to 260 guests for a large banquet. You'll fall in love with the grand cathedral-style ceilings graced with elegant crystal chandeliers.
Riverdale Manor
Location: 62 Pitney Rd, Lancaster, PA 17602
Phone Number: (717) 394-5554
Guest Capacity: Up to 200
Website: https://www.riverdalemanor.com/
Set upon six acres of flourishing woods and well-manicured gardens, Riverdale Manor is ideal for couples looking for a sophisticated riverfront wedding venue.
As you enter the property, you'll be welcomed by the 1800s white farmhouse, now operating as a wedding party preparation spot with its antique-adorned bridal suite and groom's room with plenty of space and charming backdrops for getting-ready photos. The property boasts several other picturesque locations for the ceremony and reception, with cozy spots for smaller weddings and grand spaces large enough to accommodate 200 guests making it one of the best wedding venues in Lancaster, PA.
For couples who opt for outdoor ceremonies with an organic feel, you can choose among a few charming spots on the property, including the remains of a historic mill on the bank of the Conestoga River, under the shade of a 300-year-old sycamore tree, or by the gorgeous blooms of hydrangea bushes, facing the river.
The garden terrace is a popular spot for cocktail hour or smaller ceremonies during cooler months or if weather is an issue because the sides can enclose the pavilion. Otherwise, it's fully open to the country air and surrounding forest. Bedecked with string lights and chandeliers, it also includes a double-sided fireplace. These chic lighting elements create a romantic glow for evening events and softly lit images for photos and wedding films.
For larger, indoor ceremonies and receptions, the ballroom is perfect. Its grand, soaring ceilings and large windows create a radiant, light, and airy atmosphere with all the natural light that floods in. No matter the spot you choose, Riverdale Manor is sure to please.
Stoltzfus Homestead and Gardens
Location: 3716 E Newport Rd, Gordonville, PA 17529
Phone Number: (717) 768-8801
Guest Capacity: Up to 200
Website: https://www.stoltzfushomestead.com/
Stoltzfus Homestead and Gardens is set on five acres of beautiful farmland that dates back to the 1700s, originally purchased for homesteaders to farm and raise their families (hence the name), its best feature is the incredibly well-preserved tobacco barn. As you enter the barn, you'll immediately notice the exposed 35-foot-high rafters that were once used to dry tobacco. Now they are graced with chandeliers and billowing ivory drapes to create a romantic ambiance.
Large barn doors open to reveal a courtyard area where guests can enjoy the peaceful country setting between the ceremony and reception. The lounge area offers a unique and posh hang-out space for guests to mingle and relax.
The estate also boasts several gorgeous outdoor backdrops among the lovely garden blooms, mature trees, and expansive lawns. You'll definitely want to take advantage of all the photo opportunities throughout the immaculately maintained grounds.
Your Lancaster, PA Wedding Photography and Videography Team
No matter which wedding venues in Lancaster you're considering, New Pace Wedding Films & Photo is here for you. We'll capture all the details you love about your wedding venue as well as all the sweeping emotions, moments of celebration, and joy and love that come with your big day. Get in touch with us today!